Rick Cruz is the founder of EMERGE and the Houston Independent School District (HISD) College and Career Readiness Officer. EMERGE works with high-performing students from underserved backgrounds to prepare them to attend and graduate from selective colleges and universities. Rick began his career in education in 2008 as a fifth-grade teacher in HISD with Teach for America. Two years later, he launched EMERGE. In 2013, he became HISD's Assistant Superintendent for College Readiness. I first met Rick around that time, and was so impressed that I wound up writing about him in The Cage-Busting Teacher. Now, with EMERGE having recently attracted more than $10 million in external support, it seemed like a good time to check in. Here's what he had to say.
Rick Hess: Rick, you were recently in the news for landing some major external funding to expand HISD's EMERGE program. Can you talk a bit about what EMERGE is?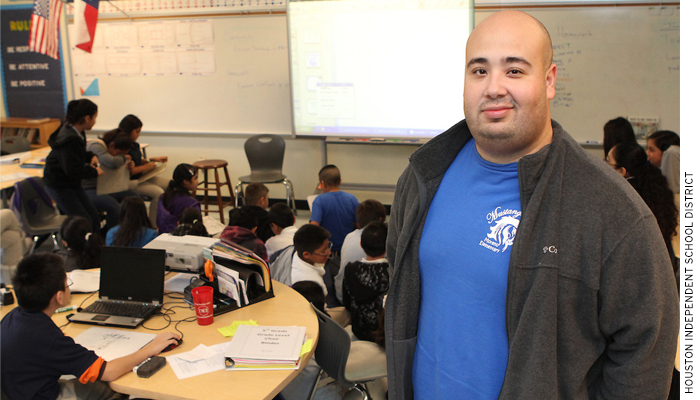 Rick Cruz: EMERGE is a program that helps high-potential students from underserved backgrounds attend and graduate from the nation's top colleges. I founded EMERGE in 2010 while still teaching. It started as a volunteer-operated program serving 14 students and has since evolved into a nonprofit organization partnering with multiple school districts and serving over 1,500 high school students and alumni in college. Top-tier colleges provide low-income students with life-changing opportunities, including robust financial aid, strong support systems, and significantly higher graduation rates.
Most of the students we work with are initially completely unaware that these opportunities exist. They don't know, for example, that schools like Stanford will offer full scholarships to students from a household income below $125,000 and that schools like Amherst have the highest graduation rates for low-income and minority students in the country. Equally important, students may not have the resources and know-how to pursue these opportunities; these gaps in information, support, and resources are what EMERGE addresses.
RH: So, what's the story with the new funding? How much are we talking, and what's it going to support?
RC: Recently, Houston Endowment awarded Houston [Independent School District] $13 million, to both further expand EMERGE over the next three years, and to hire additional college advisors to work with all district students. As part of these grants, the district is also committing an additional $10 million over the next three years to its broader college-readiness and access efforts. This means that in addition to the work EMERGE is doing, we'll be able to help thousands of additional HISD students go to college over the next few years.
RH: Can you say a bit more about the nuts and bolts of EMERGE—about how it actually works?
RC: EMERGE essentially mirrors what private college consultants and counselors do for wealthy students, but tailors it to the needs of low-income and first-generation students. Our staff is comprised of graduates from selective colleges or former admissions representatives who've worked in urban education and understand the challenges and potential of our students. Starting in tenth grade, participating students meet regularly after school, on the weekends, and throughout the summer to ensure they are prepared and empowered to apply to, attend, and graduate from the nation's top colleges.
During their time in EMERGE, our students set long-term goals, attend SAT preparation classes, take out-of-state college tours, work one-on-one with a program manager through the application process, and attend weekend workshops on interviewing, financial aid, and the transition to college. The support does not stop with high school graduation. Students also receive support and participate in programming once they enroll in college to ensure that they graduate on time and are ready for what lies ahead.
RH: You started EMERGE eight years ago, back in 2010. How did it all come about in the first place?
RC: It was the fifth-grade students that I taught when I joined Teach for America that prompted me to start EMERGE. Working with extremely talented students and knowing that there are incredible untapped opportunities they could access with some additional support and guidance was the genesis of the program.
RH: How did HISD wind up making EMERGE a district-wide effort?
RC: Our former superintendent, Terry Grier, has pushed for more low-income students to attend top colleges all his career and was a huge champion for EMERGE. He encouraged me to start the EMERGE program and in 2013 was bold enough to promote me from a teacher to an assistant superintendent to scale the program across the district and oversee our broader postsecondary-readiness efforts. Since then, EMERGE has become a key Houston ISD initiative. It's led by district staff and supported by the EMERGE nonprofit organization, which provides training and support and leads our alumni persistence efforts.
RH: What are some of the results you've seen that make you confident EMERGE is working?
RC: Our students are not just getting admitted to and enrolling in top-tier colleges, they are thriving once there. Over 95 percent of our alumni are on track to graduate from college within four years. This, to me, is the strongest indicator of the program's success, but in the long term I will want to measure success by the impact that our alumni have on society.
RH: Where do you see opportunities for EMERGE to do better?
RC: I believe the next frontier is finding ways to position our alumni for success in their careers. The college experience is inherently valuable and enriching in many ways, but it is also a means for students to accomplish their future goals. As we expand and graduate more students from college, we need to get better at preparing our students for what's next.
RH: How much does EMERGE cost? And what do those funds pay for?
RC: The program costs approximately $2,500 per student per year. This covers staffing, summer out-of-state college tours for all our students, SAT preparation, curriculum development, college-persistence programming, and more. Our students receive an average of over $150,000 in grants and scholarships to go to college, so monetarily it's a great return on investment.
RH: HISD changed superintendents a little while back, when Terry Grier stepped down and Richard Carranza took the helm. How has that affected the program?
RC: I was initially concerned about what a change in leadership might mean for EMERGE, but I couldn't be more excited when it was announced that Richard Carranza would be our superintendent. Even when he was superintendent in San Francisco Unified, he was a huge supporter of EMERGE. In fact, he sent some individuals on his previous leadership team to Houston to learn more about the program. He has been an incredible supporter of the program and without his leadership we wouldn't be able to sustain and expand the work.
RH: How do students get involved in EMERGE? Is there any kind of selection process? And what's expected of them in order to remain in the program?
RC: There are thousands of additional students we would love to work with but can't because of resource constraints. This means that we've had to develop a selection process. We recruit students at every high school campus, and students need to submit an application and be interviewed to be considered. To remain in the program, they need to be actively involved, continue to do well in school, and take advantage of the opportunities provided to them.
RH: EMERGE works with a number of immigrant students. The politics around immigration have been particularly heated of late. Has this had any effect on your work with EMERGE?
RC: This is a huge issue that impacts many of our students. I'd estimate as many as 20 percent of our students are DACA or undocumented. We've had to provide additional support to these students in many ways, including emotionally. We've even had to help students whose parents were deported find housing. Immigrant students also face challenges in terms of securing financial aid, but we've done extensive research on available funding and continue to help them navigate the process of qualifying for scholarships and grants.
RH: Are any districts elsewhere seeking to emulate EMERGE?
RC: EMERGE has partnered with and expanded the program to two other Houston-area school districts—Spring Branch ISD and Spring ISD. We've also helped several other large urban districts, including Orange County, start programs similar to EMERGE. It's thrilling to see those programs flourish. We are regularly approached by other districts interested in scaling the program, but we've taken a cautious approach to ensure that any growth doesn't come at the expense of quality. That said, EMERGE is planning for future expansion and we're always happy to share information and advice.
RH: For other school systems seeking to launch a program like EMERGE, any tips?
RC: Do it. While the type of work that EMERGE does is perhaps atypical of what a school district's responsibilities usually are, it brings so many benefits to students and the district. Every single school district has students that would benefit profoundly from the type of services and support EMERGE provides. I encourage any school district interested in the work EMERGE does to come to Houston to learn more. Again, we're happy to share and collaborate.
RH: Last question: Any words of wisdom on lessons you've learned along the way?
RC: I didn't envision how much of an impact EMERGE would have—not only on the students in the program, but on other students and the entire district. When you raise the expectations and sense of possibility with a group of students in such a profound way, you do the same for all other students and staff. In some ways, EMERGE is like a Trojan horse that infiltrated the district and is now helping us do better things for all students.
— Frederick Hess
Frederick Hess is director of education policy studies at AEI and an executive editor at Education Next.
This post originally appeared on Rick Hess Straight Up.