Aimée Eubanks Davis is founder and CEO of Braven, which partners with three universities to help over 1,600 low-income, first-generation students transition from college to career. Before Braven, she worked in senior roles at Teach For America. Before that, she taught 6th grade social studies and language arts in New Orleans. I recently talked with Aimée about Braven and how to best prepare students for careers, and here's what she said.
Rick Hess: So Aimée, what is Braven?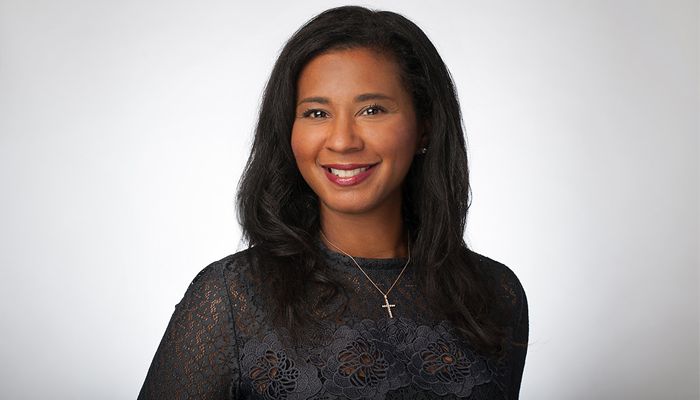 Aimée Eubanks Davis: Braven is a career accelerator. We partner with innovative public universities and employers to offer a two-part experience that empowers predominantly low-income, under-represented, and/or first-generation four-year college students to obtain a strong job within six months of graduation. We have coined this group of students—students who have worked their way to and through college and earned the right to compete—"The Mighty Middle." The experience begins with a credit-bearing college course and is followed by a post-course set of supports—like a personal mentor and job board—that lasts through graduation. Through our partnerships with Rutgers University-Newark, San José State University, and National Louis University and local employers such as Prudential Financial, Salesforce, and LinkedIn, we are using our model as a vehicle to democratize access to career. To date, we have served 1,600 students across those three campuses and have plans to quadruple in size over the next four years at our large state schools and also expand to new cities.
Rick: What's the big idea here?
Aimée: The college to career transition for the Mighty Middle is a massive problem for both students and employers, and it is currently absent from national conversations around workforce development. Every year 1.2 million low-income or first-generation college students enter our four-year universities, but only 25 percent of them graduate and land a strong job. That's 900,000 students who aren't maximizing their talents in an economy that is demanding more four-year college graduates from diverse backgrounds. We simply can't afford that as a nation.
Rick: What gave you the idea to do this?
Aimée: I started as a 6th grade social studies teacher in New Orleans. When I moved to Teach For America's [TFA] staff, I saw that my former students, who had made it to some of our country's very top universities, were struggling to get over TFA's recruitment bar not because of lack of talent but rather because no one had prepared them with the soft skills needed for their launch from college to career. I'm talking about basics, such as interview prep, that more affluent students were getting from their parents, as well as access to a network of local professionals. My former students, and others like them that I was seeing in the TFA application processes, had done everything right. They were very hard working and pulling themselves up by their bootstraps, and they had earned the right to compete for strong jobs. That their talents might go wasted seemed beyond unfortunate and highly solvable. So as a former 6th grade teacher turned talent nerd, my ah-ha moment was to flip the script and start teaching students the competencies that we at TFA were seeking in entry-level talent.
Rick: Who are the instructors for the program?
Aimée: The professors at our university partners approve the curriculum, monitor the course, and are in constant communication with us about student performance. This said, one of the innovations we discovered was to bring in professionals from local employers to deliver the "lecture" because this allowed us to expose our students to additional career options while building their networks with local employers. When it comes to this in-course coaching and mentoring, we call our fabulous volunteers "Leadership Coaches," and they are local professionals who we recruit and train. Overall, a third of our Leadership Coaches return each year. They return for a few reasons that you might guess—it's an impactful opportunity to pay it forward, and our students are inspiring. But what transformed the conversation for us with employers is that 92 percent of our Leadership Coaches rate the experience as one of the best professional development experiences they have ever had. Now we are beginning to see companies view the business value of Braven for their own staff development—in addition to it providing a pipeline and early looks at diverse local talent. For example, Prudential provides a very significant financial contribution as well as works to fill 25 percent of our Rutgers-Newark coaching slots with their own staff.

Rick: Can you provide a bit of the flavor of what participating students actually do?
Aimée: The course has three sections that move from career exploration to preparation to practice. The first five weeks of the course are called "Design Your Career" where students identify their personal leadership strengths, discover career paths that fit with these strengths as well as their passions, and learn to authentically share their personal stories. The second part of the course is called "Hustle to Career." Students learn and go through the mechanics of what it takes to land an internship or job—writing their resume and cover letter, building their professional online presence on LinkedIn, actually applying for internships, and doing mock interviews. The last five weeks of the course is "The Capstone Challenge" where students apply key on-the-job skills like project planning, working in teams, and giving and getting feedback. They participate in a design-thinking challenge that engages a company partner to solve a real business problem. Taken altogether, the course is designed to develop their career-building experiences, confidence, professional network, and soft skills.
Rick: What kind of program results have you seen thus far?
Aimée: We have been very encouraged by the results so far. Our students who have completed the course and graduated from college outpace national job attainment averages—69 percent of them attained a strong job within six months of graduation compared with 46 percent of Black and Latinx students at public universities and 54 percent of all students. Another key outcome, which frankly was not our initial aim, is that 98 percent are persisting in or have graduated from college. We think that this is because a sense of purpose about a career helps drive student persistence and also because Braven has strengthened students' sense of community. We have been deliberate about a small cohort approach.
Rick: Those are some impressive figures. But do you have a sense as to how much of the results is a product of self-selection and how much can be attributed to the program's skill-building and support?
Aimée: As a course, we must welcome all students on that campus. We target universities with high numbers of Pell-eligible, first-generation, and under-represented students and then do several things to ensure we're over-dialing on those groups. We market to the students we aim to serve through the financial aid department, deans' offices, student ambassadors, and student clubs. Some of our university partners are exploring making Braven a required course for students who are more vulnerable to dropping out or not acclimating well to their campus, such as community college transfers. Two-thirds of our students are first-generation college students, 91 percent are people of color, two-thirds speak an additional language, and two-thirds identify as low-income and/or are Pell grant recipients. Additionally, when we look at our students' high school GPA and ACT scores versus our partner schools' averages, our students fall into the low-to-middle end of those schools' ranges, which is another indicator for us that we're serving students who will benefit from us the most.
Rick: The number of students Braven serves has doubled in each of the last four years. You know as well as I do that many programs that look nifty as pilot projects disappoint on a larger stage. How are you thinking about this challenge as you grow?
Aimée: I can't believe it myself sometimes! We started with 14 students in a boot-camp in the Bay area five years ago and now we have a community of 1,600. But as you said, my team and I have been in the field long enough to know how carefully organizations need to balance quality and growth and I believe in going slow to go fast. I also knew from TFA the importance of data so, from the start, we have invested in data collection, a data infrastructure, and carefully tracking interim and long-term metrics. We also have an incredible product team that creates the curriculum and that partners with our regional teams on execution and quality control to ensure consistency. There are weeks when I see the exact same learning lab in each of our sites. It looks and feels the same whether I am in the Bay Area, Newark, or Chicago. Finally, we have benefited enormously from the strategic advice of our Board members such as Phillip Clay, the former Chancellor of MIT; Richard Barth, the CEO of the KIPP Foundation; and Rick Braddock, who bought Priceline public and knows a thing or two about markets and scale.
Rick: What is the cost of running the program? And how is Braven financed?
Aimée: As we grow and are able to take advantage of economies of scale, our cost per student will drop to about $3,000 per student for three years—to be clear that means $3,000 total for three years, not $3,000 each year. We aim to have employers, universities, and philanthropy contributing. It is a shared value model. We have been extremely fortunate in that philanthropy has supported us in the early years. However, it's also been very important to our philanthropic partners that our university partners have skin in the game. We partner with schools that serve under-represented youth, and these schools typically do not have large endowments, so I actually argue that—while we have identified significant revenue streams—we will always need philanthropy to play an endowment-type role for our target schools.
Rick: You have extensive employer partnerships with major companies like Prudential, Audible, and LinkedIn. How did those come about? Given that lots of people unsuccessfully try to partner with firms like those, what has sparked their interest in working with you?
Aimée: What Braven's employer partners always tell us is that these partnerships aren't just about being good corporate citizens and giving to charity, they actually generate real shared value. Employer partners get to participate in top-notch learning and development, engage their employees, and connect with diverse future talent, if they desire. Ninety-two percent of our Leadership Coaches say that Braven was one of the best professional development experiences they've ever had, so it's clear something truly meaningful is happening there. And for us, employer partnerships fuel the Braven experience. Period.
Rick: You currently serve three universities. As you look to expand, what are you looking for in future university partners—what are the commitments you need from them to run the program?
Aimée: We've had business, academic, and philanthropic leaders from around the country inquire about a partnership. We first look at the university population to ensure there are lots of Pell grant recipients and other under-represented groups. If that's the case, then we need a group of committed stakeholders to rally the right mix of university, employer, and philanthropic partners—we call this group a launch committee. As we continue conversations, the university needs to align with a set of criteria that our board has outlined. For example, the university has to commit to offering Braven as credit and a degree-bearing course that's available for all majors, support roughly one-third of the total program cost while we bring in the other two-thirds, plus provide teaching assistants, find a true senior level champion, and share data.
Rick: And what do you need from other stakeholders?
Aimée: In addition to the university criteria, employers and philanthropy have to engage early. We need to see commitments from prospective employer partners and evidence that the local labor market has the supply of jobs and internships needed to support thousands of new job-ready candidates.
Rick: What kinds of changes do you think are in store for Braven over the next few years?
Aimée: We are so grateful to the Gates Foundation for recently funding work to test some new versions of our model. For example, there's a great deal of interest from traditional and charter public high schools and college access organizations in testing a more virtual version of Braven for college-going students. We also have employer partners who want a train-the-trainer version that they could use to support their talent development and recruitment efforts. We pride ourselves on not being afraid to explore new areas and on using data to determine what works, what doesn't, and scale what does in a patient yet urgent way. This is how we started, and so we are excited to see what we learn in these new pilots!
This interview has been condensed and edited for clarity.
Frederick Hess is director of education policy studies at AEI and an executive editor at Education Next.
This post originally appeared on Rick Hess Straight Up.