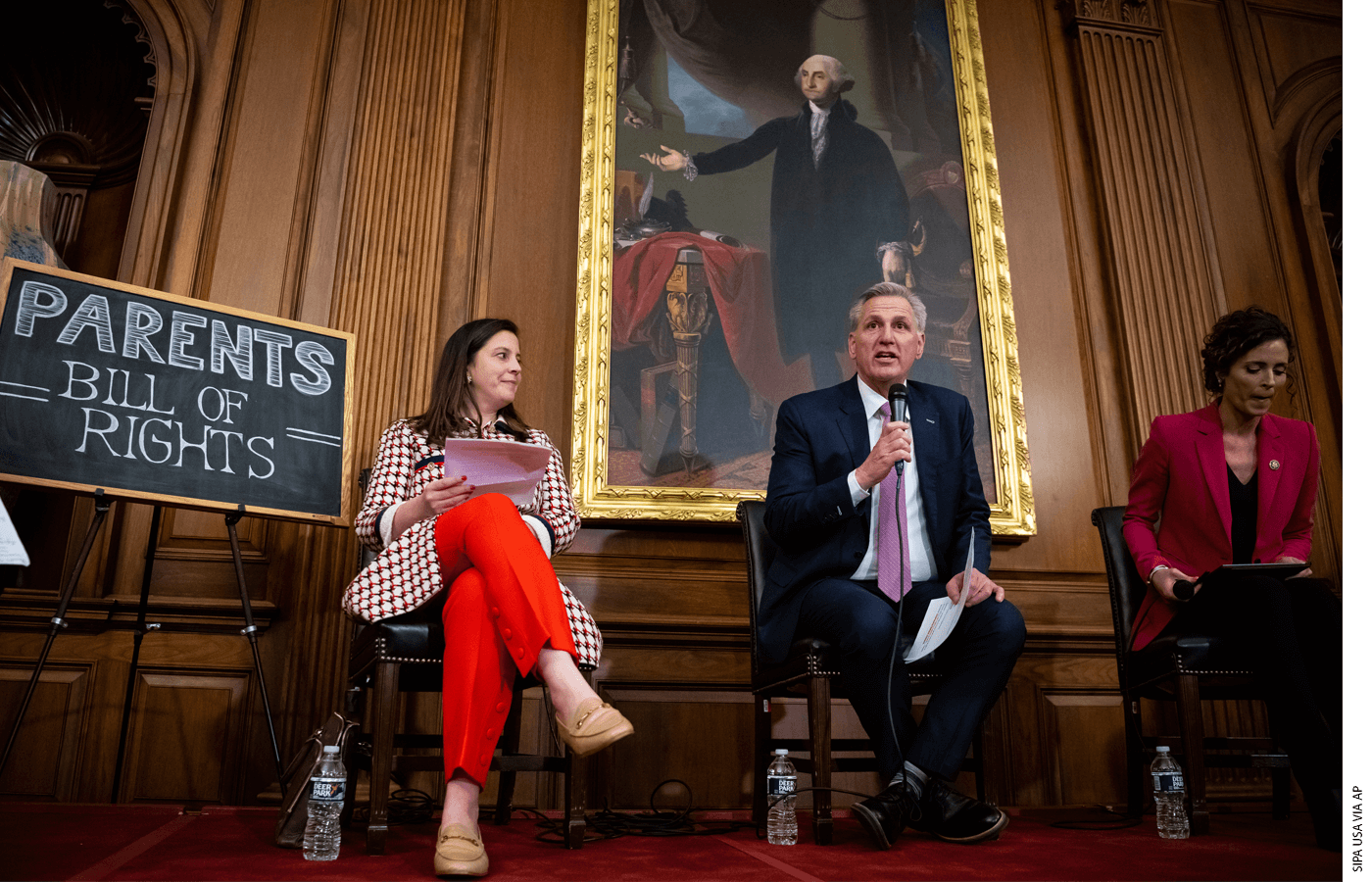 Republicans in Congress and on the presidential campaign trail are making a big push on "parents' rights."
Former President Trump, in a March 6 email to supporters, included excerpts from a campaign speech in which he described himself as a "champion of parent's rights."
"I will fight for PARENTS' RIGHTS, including universal school choice, and the direct election of school principals by the parents," Trump said in the email. "If any principal is not getting the job done, the parents should be able to vote to fire them and select someone who will."
On March 2, Speaker of the House Kevin McCarthy held an event to highlight the Parents Bill of Rights Act, legislation introduced the day before by more than 70 Republicans. A fact-sheet on the bill from the House Committee on Education and the Workforce said, "parents have a God-given right to make decisions for their children."
The text of the legislation elaborates that right with considerable specificity. The rights would include, at "a minimum," "the right to meet with each teacher of their child not less than twice during each school year," "the right to a list of the books and other reading materials contained in the library of their child's school," "the right to information about violent activity in their child's school" and "the right to information about any plans to eliminate gifted and talented programs in the child's school."
These plans might pose some practical challenges. Both the principal-firing plan and the parent-teacher-conference plan, for example, might clash with collective bargaining agreements (yes, in a lot of school districts the principals are unionized). For a teacher with large classes, one-on-one parent teacher conferences might consume so much time that it would interfere with the teacher's ability to teach. The federal legislation stops short of mandating the length of the meetings, though it does say they should take place "in person." And a parental vote on principal retention could raise some of the same issues that complicated the 2020 presidential contest, in terms of voting methods, the temptation to interfere with the outcome, and what happens if a loser fails to accept the result.
There are philosophical, ideological, and potentially even legal issues as well. Some Republicans at least rhetorically supported the idea of a federal government limited to constitutionally enumerated powers. They have criticized a left-wing approach that sees everything in terms of "rights" rather than responsibilities. They have called for curbing excessively prescriptive, top-down regulation from Washington that imposes "unfunded mandates" on state and local governments. They have emphasized experimentation, competition, and choice rather than centralized rules for school operations.
One might reconcile the two approaches—regulation versus competition—somewhat by arguing that in order for choice and competition to work, the consumers need reasonably good information, and that is what this legislation is trying to achieve. But the Republican press release promoting the legislation doesn't make that clear. Instead it quotes Cade Brumley, the Louisiana State Superintendent of Education, saying, "Children belong to their parents and it's essential to codify these undeniable rights."
One potential upside to the Republican push on parents' rights is that it could serve as a balance to the recent Democratic push for higher pay on behalf of the Democratic party's key education constituency, unionized teachers. There are more parents than teachers, after all, though the parents have frequently been a less formidable political force because they haven't been as well organized. There are recent signs—in the Virginia governor's race, in the San Francisco school board recalls, and elsewhere—that parents are emerging as a significant interest group in the politics of education. Trump and McCarthy's efforts have their rough and clumsy edges. It's a positive development, though, when politicians anywhere begin looking beyond unionized teachers and start paying attention also to additional interest groups such as parents and taxpayers. With any luck, the ultimate beneficiary may be the one group whose rights neither major political party seems particularly excited about championing—the students. They don't vote.
Ira Stoll is managing editor of Education Next.
Last updated March 9, 2023