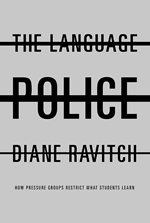 The Language Police: How Pressure Groups Restrict What Students Learn
By Diane Ravitch
Alfred A. Knopf, 2003, $24; 255 pages
Broadly defined, "political correctness" means being excessively sensitive to the fact that almost anything one says or writes can be found objectionable if one searches far enough to find an audience that might object. This movement has been making inroads into education-in textbooks, curricula, tests, and teaching-for more than 20 years now, but The Language Police discovers that "PC" has reached further and deeper than we realize. For instance, for some time I have been using the increasing number of references to Harriet Tubman as an example of the rise of this kind of sensitivity. As an African-American heroine, she appears in texts, curricula, and tests more frequently than almost any other figure in American history. But it turns out that I am woefully out of date: according to The Language Police, the sensitivity guidelines for one major publisher warn against paying too much attention to figures like Harriet Tubman (along with Martin Luther King, Jackie Robinson, and George Washington Carver), because they are "acceptable to the European-American establishment." To be PC, one must reach out to more militant figures such as Paul Robeson, Angela Davis, and Jesse Jackson.
Diane Ravitch was led to this in-depth exploration of censorship in education by her experience trying to develop voluntary national tests as a Clinton appointee to the National Assessment Governing Board. She was assigned to a subcommittee whose responsibility was to find reading comprehension passages appropriate for 4th graders. The test maker chosen by the Department of Education submitted passages that had been published in children's magazines and anthologies, and the committee carefully reviewed them, knowing what a mine- field tests intended for national use can be. "Two years later," Ravitch writes, "I was surprised to learn that the passages approved by our committee had subsequently been reviewed again by the test contractor's-bias and sensitivity review' panel," which suggested eliminating various stories. The reasons why they found stories objectionable surpass any reach of imagination. For instance:
A story asserted that peanuts are a healthy snack. No, according to the reviewers, because some children are allergic to them.
Another described patchwork quilting by women on the western frontier. No, said the reviewers, women cannot be portrayed sewing, even if the quilts are imaginative and beautiful.
There is the story of a blind man who climbed Mount McKinley. No, the story suggests that this is exceptional, and blind persons should not be shown as disadvantaged. There is also a "regional bias" potential in the story-some children come from areas without mountains.
The story of Mount Rushmore and Gutzon Borglum's gigantic sculptures won't pass muster-the Black Hills are sacred places to Lakota Indians.
Any story in which a leading character is silly or selfish or nasty is not to the reviewers' tastes. A story on owls and their distinctive characteristics is also vetoed: Owls are taboo for Navajos, and are associated with death in some other cultures. The story of Mary McLeod Bethune and her Daytona Educational and Industrial Training School for Negro Girls transgresses on many levels. The word "negro" itself is now verboten, as is the fact that the school received support from wealthy white philanthropists.
Ravitch, curious about whether such hypersensitivity was peculiar to just this one firm, began to search for the bias and sensitivity guidelines of other test development companies, textbook publishers, state agencies, and scholarly and professional agencies. These are not easy to obtain-the publishers probably realize how silly their proscriptions will look when brought to light by critics. But Ravitch did manage to get materials from some leading publishers. The guidelines of publisher Scott Foresman-Addison-Wesley alone run to 161 pages, providing a crude measure of just how much is found objectionable.
Unreal America
Ravitch is even-handed in her portrayal and criticism of the various forces, left and right, that have steadily narrowed the range of topics that may be addressed in books and textbooks for school use. Having attended public schools in Texas during the 1950s, she is aware of how politicized these institutions can be and of the lengths to which textbook critics in that state have gone. Her account of her own schooling reminds us of a time when even referring to the United Nations was suspect, when a crude right-wing McCarthyism dominated the teaching of history and public affairs. Censorship of books with sexual or religious references was also the province of the Right (but not only the Right-Huckleberry Finn, probably the most challenged book, was attacked from both the Left and the Right). In these respects, things seem to have improved with time, though there is no assessment of overall trends in The Language Police.
In fact, in some respects, the range of experience made available to schoolchildren has widened as a result of the PC movement. Anthologies of reading for schoolchildren now carefully select stories to include all the major ethnic and racial groups; to ensure that girls and women are portrayed in a positive, nonsexist manner; and to include at least one selection dealing with a disabled person. This is surely an improvement over the past. Meanwhile, many of the topics now banned (Ravitch has appended a list running from abortion and addiction to witchcraft and yachting) did not play much of a role in educational materials even before the rise of political correctness.
The real problem is that much of the literature that might connect us to a tradition of learning is no longer acceptable. One editor is quoted as saying that really nothing written before the 1970s will be approved under current guidelines. It is also odd that while the range of acceptability in the mass media has steadily widened, what can be included in school materials has so sharply narrowed. What effect will that have on schoolchildren, who have access to both? Or do teachers (or children) find ways of escaping the suffocating guidelines by introducing more of current reality into the classroom?
Certainly an unreal America-and world-is being presented to schoolchildren today, though it is true that in the past an equally, but differently, distorted America and world was presented. Ravitch's main solution is to decentralize the process of adopting textbooks. Currently, textbooks used in public schools in states like Texas and California must first be approved at the state level, a process in which various stakeholders get the chance to pressure publishers into addressing their concerns. In turn, such states largely determine the books used in the rest of the country because they are the book publishers' largest customers. Ravitch wants many more textbooks of different kinds and approach to be made available to teachers, so that they rather than state officials may make the choice. She also urges more public exposure of the process and tools that are stifling the range of materials and language that can be presented to schoolchildren. Thus the bias and sensitivity guidelines should be made public.
These are excellent proposals, but one wonders how much they will change the situation. Perhaps more helpful would be the freeing of public education from state officials through charter schools and voucher programs, which would limit the reach and power of small veto groups, who can so easily intimidate public authorities. But we know the difficulties that surround this course.
-Nathan Glazer is the author of We Are All Multiculturalists Now (Harvard University Press, 1998).
Last updated July 13, 2006