For too long schools have followed a similar architectural design, rooted in "sit and get" learning traditions that were created in the post-Industrial Revolution era. This, combined with the rigid schedule where secondary kids move in age-based cohorts every 40 to 50 minutes to another content area creates an inflexible school experience, designed with the"one size fits all" mentality. Many people around the country, though, are questioning the logic of both and creating radical new ways to approach time and space to transform student learning experiences.
In architect Larry Kearns' recent Education Next piece, "New Blueprint for K-12 Schools," their team had the opportunity to design two new school buildings that were created specifically to support blended learning. These schools had the advantage of working directly with the architects to co-create ideal spaces to support their next gen practices. But what if a new building is entirely out of your scope of possibilities? Here we show that designing a space to better support student growth doesn't need to break the bank.
Next Generation Learning Challenges (NGLC) and 2Revolutions recently published Reimagining Space, Time and Staffing, a toolkit which included tips, strategies, and resources from NGLC grantees for rethinking these critical elements of school. Here, we dive into some key tips from that toolkit and provide examples of schools getting creative and changing the student experience without grandiose budgets.
Space Supports Innovative Learning Models
Intuition and science shows us that our physical environment has an impact on our experiences, our health, and our minds. It makes logical sense that because, in many places, the experience of school is being radically rethought to better meet the needs of all kids, the physical school environment needs to get a refresh as well. Here are three key ideas when considering redesigning your space.
• Student Experience Needs to Drive the Design.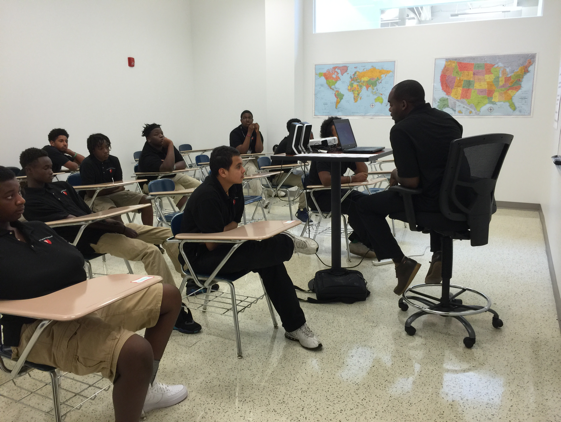 Too often, space becomes a backseat driver in the learning experience. And since it can often feel so permanent and inflexible for many educators (I can't take down these walls!), it's easier to ignore than embrace. But there's a lot school leaders and teachers can do to transform student experiences, even in the most traditional of spaces. By focusing on what student experience you're hoping to achieve, you'll find small ways to make big impacts. For example, Vertus Charter School in Rochester, New York, focuses on community and making the young men they serve feel like they belong. For that reason, the school opted to make some of their rooms smaller than typical, creating intimate classrooms where the community of students becomes the main player.
If you don't have the budget to start anew, take the time to think about the type of learning experience you are cultivating and the types of physical spaces needed to do that well. See what can be modified. For example, consider new paint. Color coding is an effective, low-cost way of identifying and defining spaces. In blended learning environments, having dedicated spaces for learning modes is an important way to decrease distraction and support individual learning.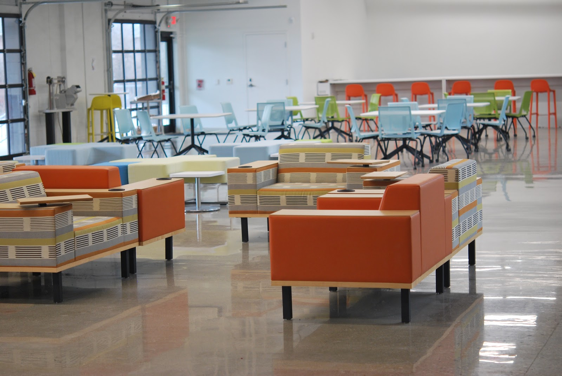 Another tactic is using furniture to create different learning spaces. If you want kids to collaborate, stand-alone desks aren't always the most conducive. Use larger tables and chairs for group-work areas, soft seating such as couches for private reading areas, and individual desks for independent work. Think about what furniture makes you feel comfortable and excited to do the work at hand. Maybe most importantly, involve the students in your redesign. Keep in mind they're your users; have it be a design project for them, as much as for the staff.
• Where you Invest Shows What you Really Value.
Sometimes we don't realize how the unconscious choices we make in our spaces affect how our learners feel. Where you don't put attention can sometimes reflect your values, whether consciously or not. Reflect on how talk without action makes you feel — a mayor's insistence that a city and its people are her first priority, how she's creating and fostering a sense of community, only to find sidewalks cracking and unwelcoming for pedestrians. Be careful to not make next generation learning only lip-service.
Do this by running a design loop with your students. Bring groups of students together and have them share out how they want to feel in school to learn best. (For example: safe, quiet, focused, inspired, lots of colors, or soothing colors. Opinions may vary. Track them all!) Next, ask them to share out adjectives for how the current school spaces make them feel and reflect on the differences. Together you can prototype solutions to make the space align to how they want to feel — and make sure to set up experiments to test these prototypes. For instance, students might complain furniture is uncomfortable, so as a group find ways to bring in more comfortable seating arrangements, then have students analyze whether their learning has shifted.
• Utilize All Spaces for Learning.
Traditional school buildings that host a double-loaded corridor reserve, use on average, 25-30% of the building footprint for hallways alone. These spaces offer a huge opportunity to reclaim unique learning areas. (Check out this Fast Company article for examples from places like Thomas Deacon Academy in England and Denver School of Science and Technology in Colorado.) Corridors can become breakout spaces for small groups, or provide reading nooks for independent study. What are some spaces in your school that can be reclaimed for specific next generation learning purposes?

Example in practice: Metro Schools in Columbus, Ohio
"You wouldn't be ooed and awed by Metro's buildings because they are [not] the latest and greatest architectural school buildings. They look like office buildings," says school Executive Director Meka Pace, in our toolkit. But, she adds, "What I do think is special is how we think of the space inside." Metro utilizes all of their spaces. "We consider every part of our building a learning space." That means hallways, nooks and crannies, even the roof at times, are used for learning. "Walls are not barriers to the learning process in this school," explains Pace. The Metro team purposefully created this atmosphere of anytime, anywhere learning. "We have lots of classrooms that open up into larger spaces. We also have lots of community spaces with round tables and other furniture for collaborative work stations and for students to congregate." Many of the rooms use glass to divide the space, giving it a transparent, open feel. Flexible walls let staff and students reconfigure as needed and feed into the idea that learning happens wherever you need it to.
Time Supports Innovative Learning Models
Just as space is a structure that has a big influence on the learning experience, time also plays a huge part. The more schools you visit, the more you hear again and again, "We just don't have enough time in the day!" Like all things though, how time is organized, sliced up into the "schedule" is a choice, and it can either enable or constrain learning experiences. Most schools use a rigid daily and yearly schedule, structured around bells, marking periods, semesters, and days that follow the same routine over and over regardless of students' learning goals.
Working in tandem with flexible, personalized learning spaces, creating flexible, personalized schedules that are more fluid and allow students to learn through many modalities, at their own pace, and with lots of opportunities for support, requires a new approach to organizing time. Time can be a primary lever to personalize a school model. In The Case for Improving and Expanding Time In School, you'll begin to understand the research behind implementing better and more effective use of time in schools to transform student learning.
Example in practice: Roots Elementary School
Roots Elementary School in Denver, Colorado, has been testing and refining their daily schedule to allow students to move at their own pace, with a schedule that changes each day to meet students' needs. Watch this video to see how it works and get ideas for whether a similar model makes sense in your environment. Read this publication for a deeper dive into Roots.
How are you using time as a school? How much time are students spending in class versus in transitions or other non-learning activities? As a first step to find out, use the School Time Analysis Tool from the National Center on Time and Learning. This web-based tool lets you plug in and see how you're actually using time collectively across your school, a necessary step before rearranging time in support of learning.
Conclusion
Structures like time and space's power to influence our experiences can feel invisible. However, research shows the important role that space has on our performance and happiness. Ideally, when moving to a next gen learning model, unlimited resources would allow us to custom-design the perfect building to meet our needs. Although — as Kearns points out in his piece — these next gen schools are often less expensive and more efficient to create, time and financial realities get in the way more often than not. Getting creative and using a design thinking mindset can help transform your school on even the tightest budget. And once you launch your new environment, don't forget about how you're using everyone's time as you design a learning experience with students at the center and all other structures focused on that.
— Catherine Lange and Nicole Falcone
Catherine Lange is a designer at Scott + Partners Architecture. Nicole Falcone is Director of Storytelling at 2Revolutions.