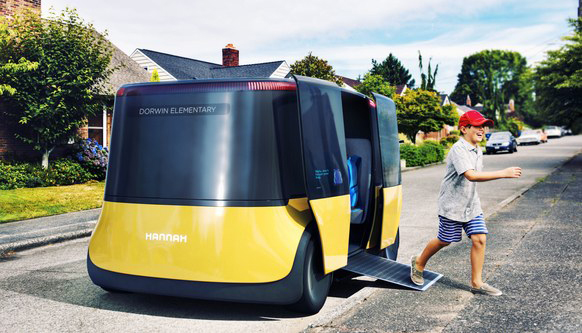 A driverless taxi service will soon be up and running in a suburb of Phoenix. The fleet is run by Waymo, which was spun off by Google last year.
In Wired, Aarian Marshall writes about Hannah, a self-driving pod designed to hold up to 6 kids at a time.  The autonomous vehicle would pick kids up and drop kids off right at their houses and use facial recognition software to make sure the right kids are getting on the right bus. An adult can observe and communicate with the students on the bus from a remote location. At this point, Hannah is just a concept created by a Seattle-based design firm called Teague.
Back in 2014, Mike Petrilli wrote for EdNext about the impact self-driving cars could have on families.
While auto-piloted autos will surely make life more convenient for many adults, they will be nothing short of revolutionary for adolescents (and their parents). They will change the teen (and tween) years as we know them.
And Jason Bedrick wrote about "How Self Driving Cars Will Enable Greater School Choice."
— Education Next