Many people think that school summer vacations are the legacy of an agrarian economy, but that's mostly not true. Stephen Mihm of Bloomberg View takes a look at where summer vacation came from, for adults and for kids.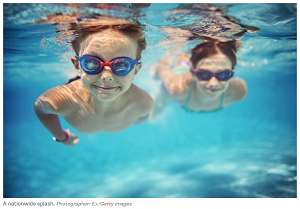 Before the late 19th century, few Americans took breaks from work, only the elites, Mihm notes.
The rise of the industrial economy changed all of this. But it wasn't the factory workers toiling away 12 hours a day, six days a week, who got to take a break. It was the emerging professional, or middle classes: salaried managers, lawyers, clergymen, and others. In the second half of the 19th century, doctors began worrying about the effects of "brain fatigue" on these white-collar workers.
At this time,  Mihm writes, schools followed one of two calendars.
In rural areas, schools opened their doors in the winter and the summer, but closed their doors in the spring and fall, when parents needed children to help out on farms with planting and harvesting. Cities, by contrast, remained open all year. Neither system was conducive to bringing the kids on summer vacation.

But it was precisely this same era that school reformers began voicing the same concerns about "brain work" that doctors had raised about adults. Horace Mann, arguably the most influential school reformer of the 19th century, wrote with conviction that "health itself is destroyed by overstimulating the mind."

…

In cities, this argument had particular resonance, no doubt because poorly ventilated, sweltering classrooms were miserable for students and teachers alike. In rural areas studied by Kenneth Gold, a historian at the City University of New York, education reformers began pushing to revamp the school calendar, as well, creating the now standard school calendar.

In truth, much of the impetus for the shift likely came from the teachers themselves, who had by this time organized themselves.  They pushed for summer vacation because, well, they wanted a break.

…

By the early 20th century, the idea that parents and children alike needed to rest their brains and commune with the great outdoors had become an article of faith among the middle class.
Only later did people begin to worry about the effect of summer vacation on the achievement gap and try to come up with ways to combat that. Then later we learned about summer melt.
— Education Next