On Day 2 of her multistate "Rethink School" tour, Education Secretary Betsy DeVos visited a private school, the Firefly Autism Center, in Denver.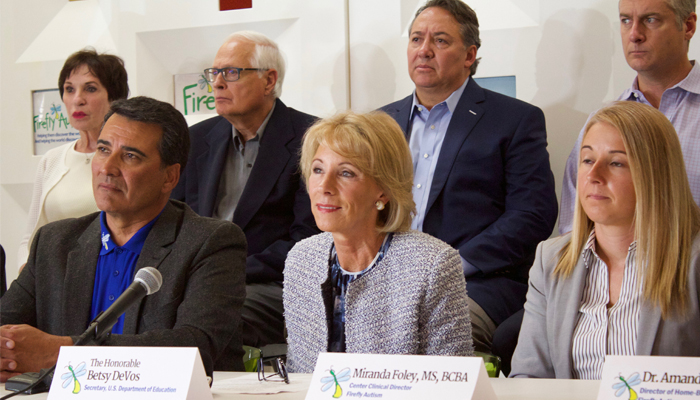 Nic Garcia writes that DeVos:
… called on the nation's public schools to work with parents to better serve students with special needs. 

Minimum progress for students with disabilities, she said, "is preposterous. Our students deserve better."
Earlier this year, the Supreme Court ruled that it was not ok for a school district to provide disabled students with only some minimal educational benefit.
The Supreme Court case involved a student, Endrew F., whose parents had enrolled him in the Firefly Center after his learning stalled in a public school in the Douglas County (Colorado) School District. The parents asked the school district to reimburse them for his tuition since, the argued, the district was failing to provide their son with a "free appropriate public education," as required by law. The Supreme Court sided with the family.
Josh Dunn analyzed the ruling for EdNext in "Special Education Standards: Supreme Court raises level of benefit."
— Education Next