On NPR, Lee Hale talks with a former teacher who is now in his first year as an assistant principal. Spencer Campbell was making too little money to live on when he was a classroom teacher so he left the classroom to be an administrator.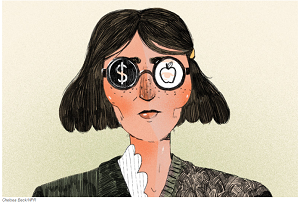 "There's not a step in the ladder between teacher and administrator," Campbell says. "It's just teacher. And administrator."

That's not saying Campbell is upset about his job, he says he likes it and now he makes nearly double what he made in the classroom. Though, the change is bittersweet.

"The effect that a classroom teacher has on a student is second only to a parent," Campbell says. "And as an administrator, I don't know if I'll ever be able to have that same effect and that's kind of heartbreaking."
Should teachers have to leave the classroom to make more money?
Bryan Hassel and Emily Ayscue Hassel have written for Education Next about a new way to address this issue, something they call Opportunity Culture, which allows teachers to take on leadership roles while remaining in the classroom.
Let school teams with teachers on them redesign jobs and use age-appropriate technology to extend the reach of excellent teachers and their teams to many more students, for more pay, within regular budgets, adding more planning time, and having them take full accountability for the learning of all the students they serve.
You can read more about Opportunity Culture here and here.
— Education Next