In U.S. News, Rick Hess and Amy Cummings take a close look at the decline in support for charter schools found in last week's EdNext poll. The write
The public supported charters by a narrow 39-36 margin, a precipitous drop in support from 2016's hefty 51-28 margin (with double-digit declines in support among both Democrats and Republicans).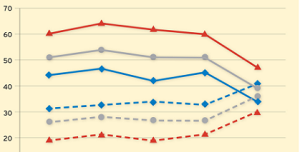 After considering many possible explanations for the drop in support, they add
Given the starkness of the reversal, however, it's also possible that these results are mostly a statistical blip. After all, it's not like the 2017 figures were presaged by an obvious softening of support in 2015 or 2016. Rather, these results seem to come out of the blue. That should give pause to those racing to offer grand explanations. After all, while we may indeed be entering a new phase of the charter school debate – one where charters have lost much of their luster – prudence suggests awaiting further confirmation before concluding we've just witnessed a sudden about-face in a two-decade trend.
The complete results from the 2017 EdNext Poll on School Reform can be found here. An essay interpreting the key findings is here.
— Education Next