Tonight at 8 pm, lots of celebrities will be participating in an hour-long live tv show about reinventing American high schools. The show, XQ Super School Live, will air on all four major broadcast networks, reports the Associated Press. The show is presented by the Education Industry Foundation.
"High schools must be rethought and reshaped so every student can succeed in college, career and life," EIF said in an initial announcement, via Variety. "XQ seeks to bring Americans together to create new school models reflecting the needs and experiences of the students they serve," they added.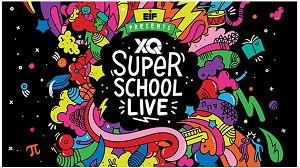 Alexander Russo's feature story, 'Will the XQ "Super Schools' Live Up to Their Name? A new philanthropy's competition to reinvent high school" appeared in EdNext earlier this year.
Earlier this week, Matt Barnum questioned whether one of the premises of the show, that high school has not chnaged much in the past 100 years, is really true.
— Education Next