A report released by the Government Accountability Office finds that college students who transfer from one school to another lose nearly half of the college credits they earned. When those students are then forced to repeat courses they already passed, the students are at risk of exhausting federal grants and loans to pay for the extra courses, Danielle Douglas-Gabriel explains in the Washington Post.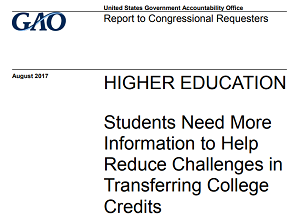 According to Melissa Emrey-Arras of the GAO,
Their money is at stake here. The federal government's money is at stake here. And students run the real risk of having to repeat courses and take longer to graduate from college.
In a new book, Alexandra Logue describes how The City University of New York (CUNY), which encompasses 24 colleges and professional schools serving over 270,000 students, adopted policies designed to make it easier for students to transfer credits from one school to another.
"CUNY's New Approach to Transferring College Credit," an excerpt from the book, was just published by Education Next.
— Education Next