Earlier this month, New York City announced that it would be sending teachers from the "Absent Teacher Reserve" pool into classrooms.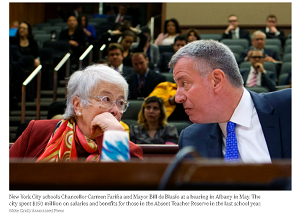 About 800 teachers were in the ATR pool at the end of last school year. They have been spending their days in what used to be called the "rubber room," not teaching but still being paid.
These teachers do not have permanent jobs, "sidelined in most cases because of disciplinary problems or bad teaching records or because they had worked in poorly performing schools that were closed or where enrollment declined," explains Kate Taylor in the New York Times. Because of a deal that was made with the teachers unions, these teachers cannot be fired.
But now, saying the city cannot afford expenditures like the $150 million it spent on salaries and benefits for those in the reserve in the last school year, the education department plans to place roughly 400 teachers in classrooms full time, possibly permanently. They will be placed in schools that still have jobs unfilled by mid-October. Principals will have little, if any, say in the placements. Neither will the teachers.
The New York Post editorial board has complained that the school district is "making kids suffer for teachers no one wants."
Critics say low-performing schools will get stuck with the ATR rejects, but the union insists most are fine educators.

Bernard Gassaway, former Boys and Girls HS principal, tweeted one test of that: "If ATRs are truly qualified top teachers, then place them at the highest performing schools where vacancies exist. No exceptions!"
To learn more about the rubber room, please read "Great Teachers in the Classroom," a review, by Nathan Glazer, of a book by Steve Brill about school reform.
–Education Next
Clarification: The "rubber rooms" where teachers used to be sent if they were accused of wrongdoing or incompetence have been phased out. The ATR is "made up of teachers who lost their jobs through budget cuts, school closures, poor performance ratings or disciplinary issues."