In the latest report from the Organization for Economic Co-operation and Development, China ranked fifth in math and the United Kingdom ranked 27th, so the UK Department for Education has begun implementing a new style of teaching math modeled on the way math is taught in China. So writes Aria Bendix in an article for the Atlantic. Further, math textbooks created for students in China will be translated and sold for use in British schools.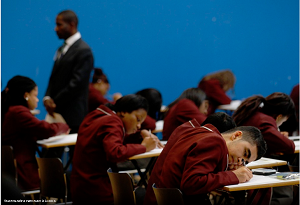 In "Miracle Math," Barry Garelick wrote about what happened when a suburban school district in Maryland tried using Singapore Math.
Recently Mike Petrilli wrote for EdNext about the popularity in the U.S. of an open source curriculum called Eureka Math.
— Education Next