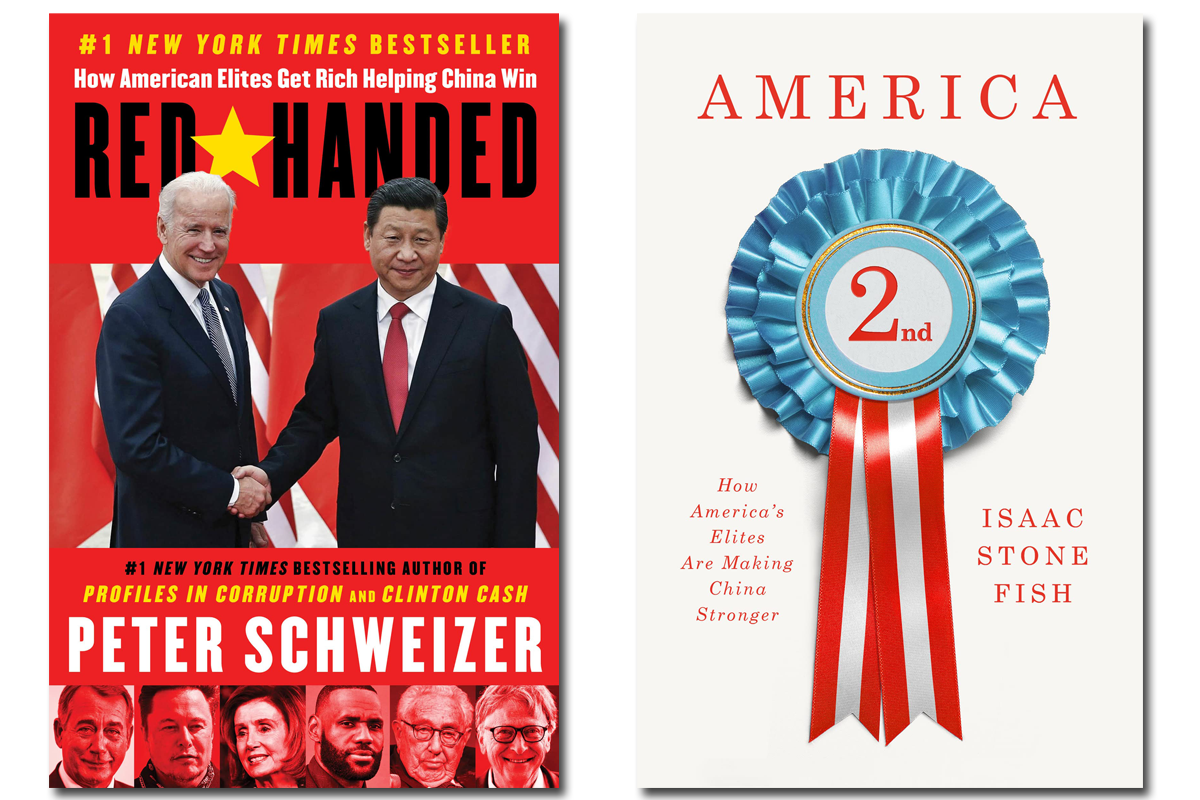 The Chinese Communist Party is corrupting American higher education, two new books argue.
Red-Handed: How American Elites Get Rich Helping China Win, by Peter Schweizer, reports that Chinese donations to the University of Pennsylvania soared after Joe Biden set up a center there. Biden worked at the center after serving as vice president of the United States but before being elected president.
"After the Biden Center's announcement that it was opening at the University of Pennsylvania, donations from the Chinese mainland to Penn almost tripled," Schweizer writes. He documents a $950,000 contribution to Penn on April 19, 2018 from China Merchants Bank, a state-owned enterprise. And he mentions an August 2, 2019 donation to Penn by "a mysterious Chinese firm called Cathay Fortune."
"Entire institutions of higher learning are being influenced by the flow of money from China via large gifts from wealthy alumni linked to the mainland's power structure. We will never know how large this flow is because it is chronically (and illegally) underreported," Schweizer asserts.
Penn's president during the time Schweizer writes about, Amy Gutmann, is now the American ambassador to Germany. An April 2020 article in the Chinese Communist Party-owned-and-run China Daily about a China Merchants Bank Executive delivering a shipment of personal protective equipment to Penn quoted a Penn professor and vice dean saying, "It's great to have friends of The Wharton School such as China Merchant Bank, our long-standing partner."
The university-related material in the book goes beyond the University of Pennsylvania. The higher education chapter focuses on Yale, which Schweizer writes "has significant and entangling financial ties with Beijing and works to obscure them."
Spokespeople for Penn and Yale did not respond to queries from Education Next asking for a response to Schweizer's book, which has spent weeks at the top of the New York Times nonfiction bestseller list. Schweizer, a former fellow at Stanford's Hoover Institution, is president of the Government Accountability Institute, a nonprofit research organization based in Tallahassee, Florida.
America 2nd: How America's Elites Are Making China Stronger, by Isaac Stone Fish, contends that China's influence is derived not only from gifts and grants but also from the roughly 300,000 tuition-paying Chinese students at American colleges. "Beijing's ability to direct Chinese students to cash-strapped universities—or threaten to take them away—incentivizes universities to act carefully," Fish writes.
He offers, as an example, the University of California San Diego. "After the Dalai Lama spoke at the 2017 commencement, Beijing froze funding to Chinese scholars wishing to attend the school," Fish writes. The UCSD student body is "roughly 14 percent Chinese foreign students," so, as Fish puts it, "it reminds other universities of the financial consequences of opposing Beijing."
Fish, who is fluent in Mandarin and spent six years living in China, warns that the risk of "self-censorship" extends beyond obvious issues such as Hong Kong protests, Xianjiang oppression, and the "three Ts" of Taiwan, Tibet, and the Tiananmen Square Massacre. The most sensitive issue, he says, is Communist Party control: "Should the Party rule China? And if not, what should Chinese and the rest of the world do about it?"
Good luck discussing that issue publicly at the Wenzhou satellite campus of Kean University, a public university in New Jersey. Fish reports that "a 2015 job post for the university's specialist for residence life and specialist for student conduct said that 'membership in the Chinese Communist Party is preferred.'" Students at some American satellite campuses in China can't even access the Internet uncensored.
In the U.S., the question of undue Chinese Communist Party influence on campus is often met with accusations of racism. The president of MIT, L. Rafael Reif, wrote in 2019 about the danger of what he called "a toxic atmosphere of unfounded suspicion and fear." His letter said, "Looking at cases across the nation, small numbers of researchers of Chinese background may indeed have acted in bad faith, but they are the exception and very far from the rule. Yet faculty members, post-docs, research staff and students tell me that, in their dealings with government agencies, they now feel unfairly scrutinized, stigmatized and on edge – because of their Chinese ethnicity alone."
The challenge is to "be vigilant without being racist," as Fish puts it.
If opposing bigotry is the key issue for Americans to consider, though, surely it also requires a clear-eyed look at what the Chinese Communist Party is doing in Xianjiang. The Trump and Biden administrations have both described it as genocide. A November 2021 report from the United States Holocaust Memorial Museum said that between one million and three million people, mainly Uyghurs, are being held in detention centers where they are forced "to strip away Uyghur culture and their Islamic faith and replace it with a Han Chinese culture and CCP ideology."
American campuses these days value their public moral example to the extent that they are divesting from fossil fuels and are finding new names for buildings and programs that were named after pharmaceutical company owners and Southern senators. It might be tempting to advise American colleges to send a message by cutting all ties to China. As the Fish book reports, American government officials privately joke that a "win-win" relationship with China means China wins twice.
Yet neither Fish nor Schweizer go so far as to recommend that kind of clean break. And for good reason. For all the legitimate concern that America is educating its enemies or compromising its integrity, the knowledge exchange is a two-way street. Back when the threat everyone worried about came from the Middle East rather than the far East, members of Congress and think tanks sporadically proposed to ban Iranians, Saudi Arabians, Iraqis, or Syrians from studying hard sciences in American universities. The fear was that the students would take knowledge home and use it to build weapons with which to attack America and its allies. I used to smile and think of Ahmad Chalabi, the Iraqi who studied at MIT and the University of Chicago and who helped in the end to topple the dictatorship of Saddam Hussein.
Iraq's post-Saddam travails notwithstanding, Chalabi's example demonstrates that foreign students in American universities can learn to appreciate what it is like to live in a country with freedom, democracy, and the rule of law. The Fish book quotes a U.S. Commerce Department estimate that Chinese students contributed a total of $14.9 billion to the U.S. economy in 2018. If even one of them goes back to have an impact on China of the sort that Chalabi did on Iraq, the effect in terms of peace and human dignity could be tremendous.
The Schweizer book begins with a chapter called "the rope," mulling the sentiment attributed to Vladimir Lenin that "the capitalists will sell us the rope with which to hang them." Though Schweizer intends the metaphor as a warning, Lenin's sentiment may also be a useful reminder. The Chinese sure would not be the first communists to make the mistake of overestimating the certainty of their triumph, or of underestimating the power of freedom.
Ira Stoll is managing editor of Education Next.
Last updated March 9, 2022