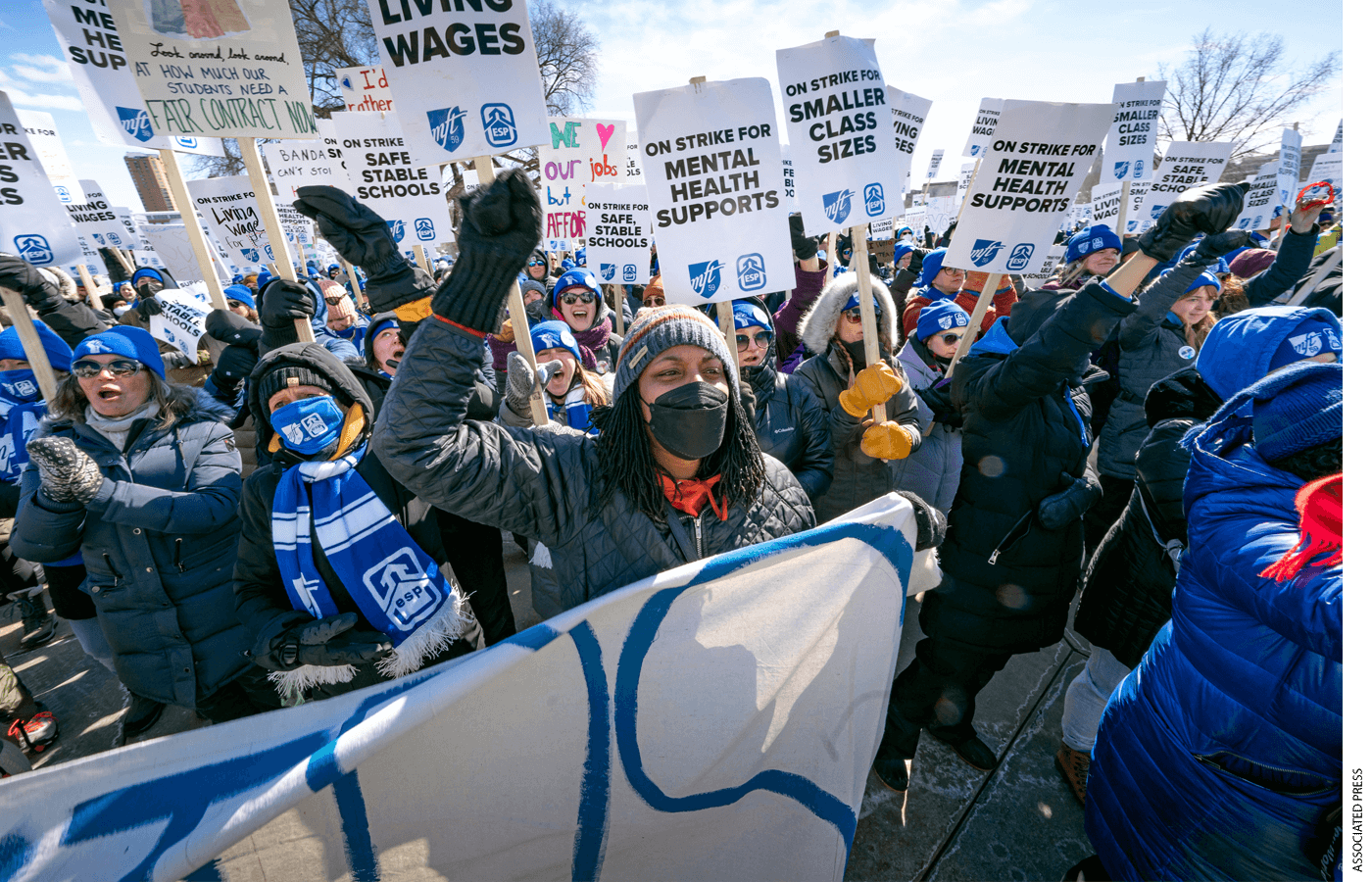 Education reformers have long argued that "last in, first out" policies on teacher layoffs are educationally harmful. When teachers are retained based solely on seniority and not effectiveness, students suffer. It's hard to think of a retention policy that is more counter-productive, but the Minneapolis Public Schools just might have. The school district and teachers union have managed to create a policy that not only disregards teacher quality but also is likely illegal.
In March, Minneapolis teachers went on strike for three weeks demanding higher pay. Their new contract, which will go into effect in 2023, also modified the district's last in, first out policy so that layoffs due to enrollment declines will be based on seniority unless a teacher is "a member of a population underrepresented among licensed teachers in the district." Because minority teachers in the district tend to be younger, they have been more likely to be let go. The district and union assiduously avoided referencing race to help inoculate the policy from litigation. For instance, a male teacher might be able to claim protection because male teachers are also underrepresented compared to the district's student population. However, that would certainly be subject to a challenge under Title VII of the Civil Rights Act of 1964, which forbids discrimination based on sex. It is nonetheless clear that race was the primary motivating factor for the change in policy and would be the most common reason for its application.
Defenders of the policy cite research showing that having a minority teacher can improve educational outcomes for minority students. But even if one could show that the policy would have uniformly positive educational outcomes, it is still very likely illegal, at least when applied based on race. After all, the Supreme Court ruled in Parents Involved in Community Schools v. Seattle (2006) that race was not a compelling government interest in student assignment for K-12 education. Even Justice Kennedy's notoriously opaque concurring opinion, which held that school districts could use a variety of strategies to avoid racial isolation, emphasized that districts could not treat students in a "different fashion solely on the basis of a systematic, individual typing by race." Minneapolis's policy would require that kind of systematic typing. It's not clear how such an approach could be legal when applied to teachers if it was illegal when applied to students.
Even more troubling for the district is that the Supreme Court addressed a similar policy in the 1986 case Wygant v. Jackson. In response to racial tension in the community the Jackson School District from Michigan modified its collective bargaining agreement so that "In the event that it becomes necessary to reduce the number of teachers through layoff from employment by the Board, teachers with the most seniority in the district shall be retained, except that at no time will there be a greater percentage of minority personnel laid off than the current percentage of minority personnel employed at the time of the layoff." The district's  goal was to remedy past discrimination and to provide minority role models. While a majority could not agree on the reasoning, five justices agreed that the policy violated the equal protection clause because "carried to its logical extreme, the idea that black students are better off with black teachers could lead to the very system the Court rejected in Brown v. Board of Education."
The policy in Wygant was actually less demanding than the one in Minneapolis, which appears to allow race always to be a trump card. In Wygant, race was only a trump card when the racial percentage of those being laid off exceeded the overall racial percentage of district employees. It is therefore hard to see how the Minneapolis policy could be sustained in a legal challenge. As well, the Supreme Court in Wygant was likely more sympathetic to consideration of race than today's court. Thus, as much as the district has tried to protect itself from litigation, the policy will almost certainly invite it. One would be unwise to bet on the policy's survival.
Joshua Dunn is professor of political science and director of the Center for the Study of Government and the Individual at the University of Colorado Colorado Springs.
Last updated June 15, 2022