When ­ Florida's governor, Charlie Crist vetoed the merit pay for teachers bill that had passed the state legislature, the governor explained his actions by saying  "the people spoke, and they spoke loudly."  But Steve Brill, in yesterday's New York Times Magazine story, says that it was "a ferocious lobbying campaign by the state teachers' union that generated more than 100,000 e-mail messages and phone calls to Crist's office."
So who is the teachers union in Florida protecting with all of its political power? Is it the poorly paid, beginning teacher whose salary teacher unions work hard to enhance and protect?   Or is it that of the old-timers who, like old-timers everwhere, capture organizational power and use it for their own purposes?  To find out, I took a look at the 2010 salary schedule in Dade County, Florida's largest school district, which serves the Miami metropolitan area, as part of my preparation for the conference on Merit Pay, which Harvard's Program on Education Policy and Governance is sponsoring on June 3-5.
Here is what I found:
Teachers who hold a bachelor's degree and have one year of experience earn $250 more than a beginning teacher (see attached table), and those with two years experience earn $500 more.  After three years of experience, salary jumps by $1,000, and over the next nine years, additional increments of about $300 are awarded annually.   At 13 years, however, salary leaps by over $4,000, and at fifteen years, the increment is up again by $3,000.  Other sizeable shifts upward come later, the most spectacular being the nearly $10,000 salary increase that comes in the 21st year of experience. By that 21st year, a teacher with a B. A. degree is earning 77 percent more than a beginning teacher with the same credentials and no less than 62 percent more than a teacher with ten years of experience.  The compensation differences are undoubtedly larger if one were to figure in the present value of the teachers' pension.
Vigdor finds much the same thing in North Carolina school districts.
Is a 20 plus year teacher 62 percent better than a teacher with ten years of experience—or do unions, in their negotiations with school districts, sell out the young teachers for their own purposes?  For some answers, come to the PEPG conference in June.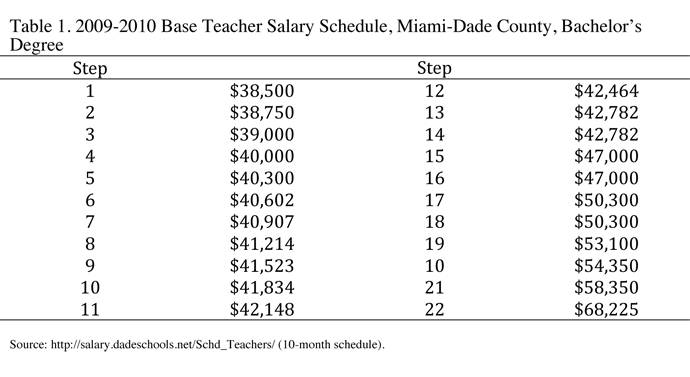 Last updated May 24, 2010