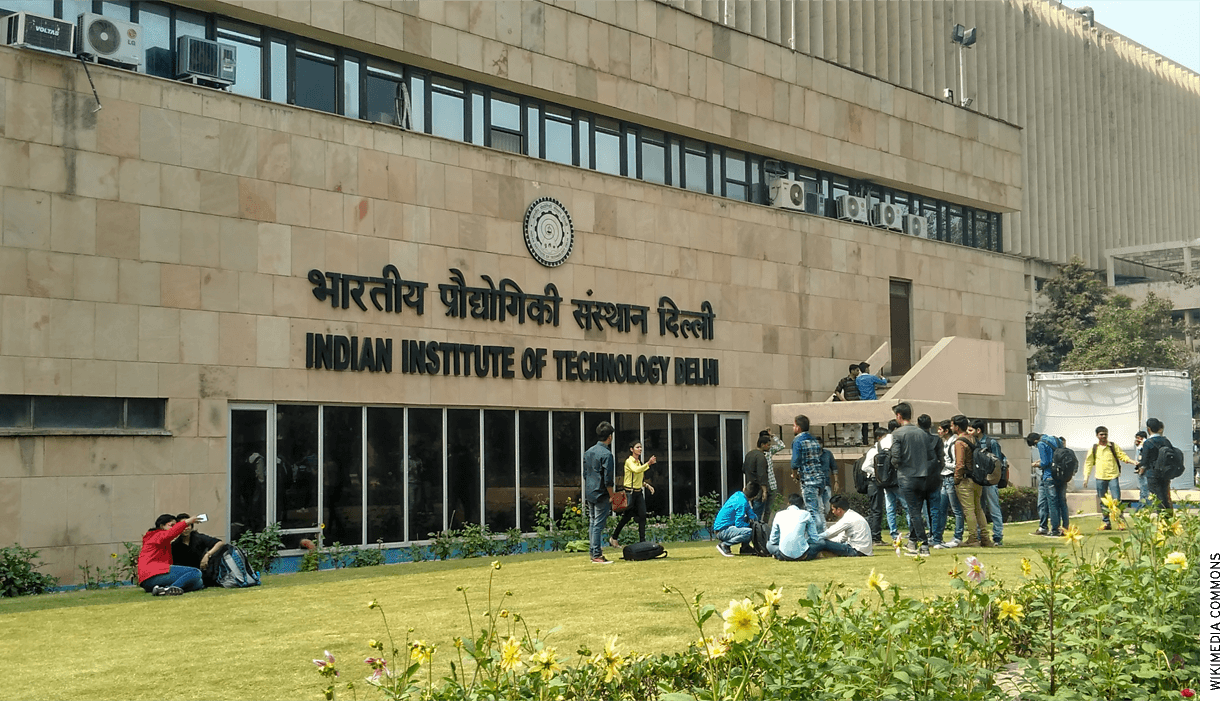 How do you predict the future? Simple. Spend time in schools.
Some four-year-old heading to preschool this morning is going to be president in the mid-21st century. A six-year-old learning to read today is going to lead a big social movement in the 2050s. Institutions and movements will always need leaders and people to elect or support them. Look at how they're being educated, listen to what questions they're asking, and what's being asked of them, and you have an elegant leading indicator of a society's future.
That was my thought on a recent trip to India. The rise of nationalist extremism there is troubling. The economy has been booming, but the growth has obscured persistent corruption. Newspapers that used to provide a check on state power are now captured by it. Many conversations had an undertone of resignation about the public sphere—the politics are too awful to behold—so people avert their eyes and mind the private business of their firms and families.
Despite the problems, though, I am hopeful for India's future for one reason. Remarkable things are happening in Indian education.
India recently published its first-ever national pre-school curriculum, and it focuses on creativity and curiosity. India's education system is often criticized for excessively teacher-centered, top-down instruction. The proposed curriculum accepts that critique and seeks to correct it: "rote-based, teacher-directed learning, which is devoid of meaningful context, with undue pressure on the child to perform, is harmful." The authors at the Indian National Council for Education Research and Training also recommend steps to advance gender equity: "Use stories, songs, activities and facilitation aids that depict girls and boys, including some with special needs, in the same roles as men and women in all professions. Both women and men should appear as leaders, heroes and problem solvers…."
It will take years for these ideas to make their way into classrooms, but this is a good start. If in 2070 India elects a prime minister who is creative, curious, and respectful of differences, it can thank the preschool teachers who imbued those values in a generation of voters and leaders. Starting in 2021, India is rejoining PISA, the Program for International Student Assessment, so it will be easier to track its progress and share lessons globally.
If preschool is a telephoto lens into the distant future, higher education offers a wide-angle view of what might change in the economy, culture, and politics of the next few decades. Students who take intellectual risks today will launch the startups of tomorrow. Students who respect academic integrity today will one day refuse bribes. Students who come of age in diverse classrooms will bridge differences and heal society's fractures as adults. If the battles of a bygone era were won on school playing fields, as the apocryphal saying goes, the challenges of this century will be solved in the classrooms of IIT, Shanghai Jiao Tong, and Duke.
Which brings me to the reason for my trip, which was to help launch Coursera for Campus, a new product that lets universities share courseware with one another and use it to embed professional learning in traditional degree programs. Coursera for Campus was based on the success of Coursera for Duke, a co-curricular program incubated at Duke to offer "complementary" technical and professional skills to students and alumni (as well as faculty and staff).
The level of interest and engagement from the Indian media and university leaders was greater than I've seen in two decades of education work in the U.S. and Europe. A press conference attracted top mainstream and business publications and the journalists' questions were in-depth: How do faculty integrate digital materials into their courses for credit? How are you enhancing credentials to help students demonstrate the skills they've earned?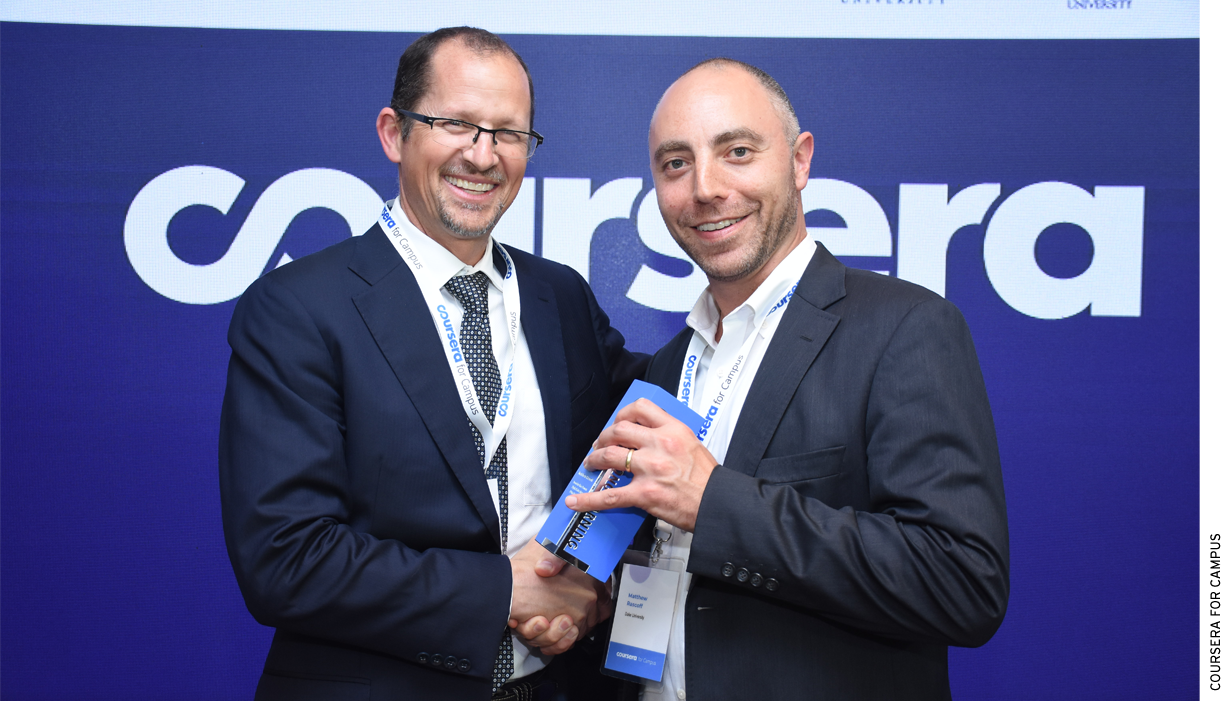 University leaders flew in from across India for the chance to hear from Coursera CEO Jeff Maggioncalda and two panels of colleagues who have been pilot-testing Coursera for Campus. The higher education sector in India is in some ways the mirror image of the U.S.: While American enrollments are declining and colleges are closing, India is preparing to offer postsecondary education to millions more young people. Admission rates to the top universities in India are below 2 percent—more competitive than any Ivy League college. The difference is that India has a plan to add high quality supply to meet the demand. Between 2008 and 2016 India more than doubled undergraduate enrollments. Between 2014 and 2020 it aimed to add 14 million places.
The current plan is a sensible combination of growing existing institutions, building new ones, and consolidating around three models: research universities, teaching universities, and colleges. This tripartite model appears to be inspired by Clark Kerr's California Master Plan for Higher Education, which established the framework for the University of California, California State University, and community colleges.
Digital content and platforms, such as Coursera for Campus, alongside India's government-funded platforms NPTEL (the National Program on Technology Enhanced Learning) and Swayam, can help kickstart new programs and add capacity and infrastructure. Beyond any particular solution, the opportunity to ask fundamental learning-design questions is refreshing. What are the optimal hybrid learning models for different disciplines and degrees? How to support faculty in the design and redesign of courses? What services should be part of online programs to ensure student success?
These questions, and others, are unleashing the creative energy of Indian academic innovators and entrepreneurs. They are being discussed at the highest levels of university administrations, among employers, and by parents and students. In the U.S., launching an "intentional university" is a once-in-a-career opportunity that only a handful will experience first-hand. The hall in New Delhi where I spoke on a panel was filled with dozens of university leaders who are doing just that. India is now the world's most interesting laboratory for education innovation.
Optimism is crucial for all education leaders, doubly so for education innovators. The strange thing about optimism is that it is so infectious. It is a conversation-borne virus. Usually carriers don't even know they're transmitting it—but those on the receiving end always do. Travelers are especially susceptible. After a few days in Delhi, I caught a serious case.
Matthew Rascoff (@mzrascoff) is Associate Vice Provost for Digital Education and Innovation at Duke University, where he leads Duke Learning Innovation.