Democrats for Education Reform (DFER) celebrated its eighth anniversary last summer. In a new article for AEI (based on a longer case study), Alexander Russo assesses the impact of an organization that he describes as "founded to create a 'safe place' for pro-charter, reform-oriented Democratic politicians to make much-needed changes to the education system."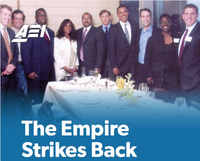 Russo writes
For some education reformers, DFER's intramural, Democrats-only focus had been a breath of fresh air. Its explicitly political focus—as opposed to policy or practice—was a welcome change.

Some believed that the organization's influence during that period had been substantial: "There's no doubt that the Democratic Party has moved significantly more towards the reform side, even with the turn back [away from some of DFER's ideas] now," said Drew University's Patrick McGuinn in an early 2016 interview. DFER is "not the only reason but [it] has played a big role," according to McGuinn, who penned a 2012 look at DFER's policy leadership.

Others believed that DFER had done little or had even been a destructive force within the Democratic Party. "I met the folks at DFER through John Petri at Gotham Capital," recalled Daniel Leeds, a DC businessman and philanthropist who had helped found the League of Education Voters and who regularly convened a broad group of education funders. "I didn't see how [their approach] was going to drive education attainment forward."[3]

Taking the middle view were those who, while generally supportive of DFER's aims, wondered why it hadn't done more with the amazing luck and momentum that it had enjoyed. DFER "didn't create a broad movement among Democratic lawmakers around revamping how schools work," said former Michigan lawmaker Tim Melton, who moved over to work for StudentsFirst, a school reform advocacy group that recently merged with 50CAN.
In 2012, Patrick McGuinn wrote about DFER and other education reform advocacy organizations (ERAOs) for Ed Next.  McGuinn wrote
These national ERAOs and their counterparts at the state level are focused on enacting sweeping education policy changes to increase accountability for student achievement, improve teacher quality, turn around failing schools, and expand school choice. As Terry Moe documents in his recent book, Special Interest, for decades the politics of school reform have been dominated by the education establishment, the collection of teachers unions and other school employee associations derisively called the "blob" by reformers. But the past two years have witnessed an unprecedented wave of state education reforms, much of it fiercely opposed by the unions. The ERAOs played an active role in pushing for these changes, and it is clear that they are reshaping the politics of school reform in the United States in important ways.
– Education Next
Last updated July 19, 2016