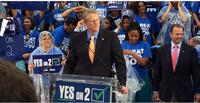 Massachusetts voters will weigh in this fall in a referendum on whether to increase the number of charter schools in the state.
Richard Whitmire analyzes how the politics are heating up there in an article for the 74. While public opinion polls suggest that the public favors charter schools, insiders interviewed by Whitmire believe the anti-charter side has a slight edge.
He writes
The conflict concerns a relatively simple question that will appear on the Massachusetts ballot in November: should the state lift the cap on the number of charter school seats it permits to allow 12 new or expanded charters a year?
But there's nothing simple about this fight, which is ripe with national implications and likely to draw in national combatants.
The stakes: If the teachers' unions and district superintendents can stop charter schools in Massachusetts — the state that boasts the highest performing charters in the country — then charters are at risk everywhere.
Jim Peyser wrote for Ed Next in 2014 about the battle then raging over lifting the charter cap.
He wrote
Imagine you live in a city with a set of open-enrollment public schools, serving predominantly low-income children of color, where students learn at twice the rate of their peers in neighboring schools. And what if those high-performing schools were ready, willing, and able to enroll more students, maybe even double or triple in size? Sounds too good to be true, huh?

Well, that city actually exists, and it's Boston. But, remarkably, the powers that be are blocking the city's best schools from growing for the simple reason that they are charter schools.

– Education Next