In an op-ed in the New York Daily News, RiShawn Biddle and Jeremy Lott argue for a new approach to boosting the number of high-quality teachers in our schools: "right-to-teach" laws.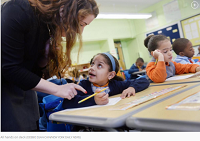 They write
States artificially limit teacher supply by making aspiring educators get degrees in education that have little to do with improving the chances of children succeeding in college and the workforce.

The good news is that states can increase the supply of teachers by allowing more professionals to become teachers without having to seek burdensome and unnecessary credentials. Passing what we would call right-to-teach laws would improve schools and the lives of the children who attend them.

There are plenty of highly-talented men and women, including middle-aged engineers and others with math and science skills, who want to become teachers. Forty-two percent of college-educated adults aged 24-to-60 would consider teaching as a career, according to a 2008 study by the Woodrow Wilson National Fellowship Foundation.

Not everyone with specialized skills and knowledge is cut out to stand in front of a classroom. But the teacher credential systems in this country unnecessarily narrow the field of people who can teach in schools, which directly harms students by making good instruction scarce.
A study published in Education Next examined whether state certification makes teachers better at fostering student learning. That study, conducted by Jonah Rockoff, Doug Staiger, and Tom Kane, concluded that "a teacher's certification status matters little for student learning."
The authors note
The above discussion should not be taken to imply that teachers do not matter. Although it may not matter much whether a child is assigned to a certified or uncertified teacher, it certainly does matter to which teacher a student is assigned. Interestingly, the range of effectiveness within each certification group is wide and the distribution of effectiveness is roughly the same.
As a bonus, a study by Daniel Nadler and Paul E. Peterson found that states that opened up alternate routes into teaching had more teachers from minority groups than states that did not open these routes.
– Education Next
Last updated June 9, 2016