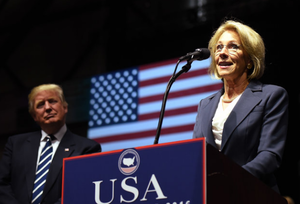 The confirmation hearing for Betsy DeVos, Donald Trump's nominee for secretary of education, has been delayed until January 17. It was originally scheduled to take place on January 11, but late on Monday night the Senate Health Education Labor and Pensions committee announced it had been delayed, NPR reports.
On Monday, Education Next published a feature article by Mike McShane that takes a long look at DeVos's education reform track record.
McShane discusses the article, and the topics likely to be raised at DeVos's confirmation hearing, in this week's episode of the EdNext podcast.
— Education Next