In California, the state Supreme Court has decided not to hear an appeal in Vergara vs. California, which means that teacher tenure laws in the state will stand.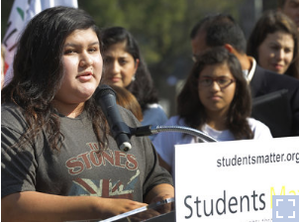 As NPR's Richard Gonzalez explains
Two years ago, Los Angeles Superior Court Judge Rolf Treu ruled that tenure laws were unconstitutional because they made it virtually impossible to fire incompetent teachers, and that especially hurt students in poor neighborhoods.
However, that ruling was reversed in April by a state appeals court.
Laws protecting teacher seniority "do not inevitably lead to the assignment of more inexperienced teachers to schools serving poor and minority children," wrote Presiding Justice Roger Boren.
In an article in the Fall 2016 issue of Education Next, legal columnist Joshua Dunn pointed out that the claims being made in the Vergara case were particularly hard to prove.
The problem with the plaintiffs' argument, according to the court, was that it did not prove that the statutes in question disproportionately harmed a particular class of children. Instead, the plaintiffs only showed that the teacher- tenure protections potentially harmed all students.
Dunn noted that copycat cases that have already been filed in New York and Minnesota have a much better chance of success.
– Education Next