A new study finds that wealth- and race-based gaps in school readiness for children entering kindergarten narrowed modestly between 1998 and 2010.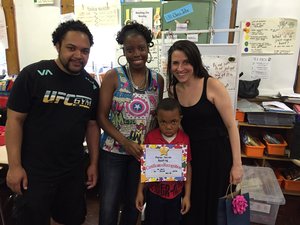 Researchers Sean F. Reardon of Stanford University and Ximena A. Portilla of the research firm MDRC compared data for nationally representative samples of more than 40,000 children who started kindergarten in 1998, 2006, and 2010. They found that during that period, children from both the poorest 10 percent of families and those from the wealthiest 10 percent of families improved in early-reading and -math assessments–but students in poverty made larger improvements. As a result, poor students closed academic gaps with wealthy peers by 10 percent in early math and 16 percent in early reading.
"I think what's surprising is that the income gap has narrowed … when some of the underlying conditions–growing income equality and residential segregation–have continued unabated," Reardon said.
Racial gaps also narrowed during the same time. Hispanic students reduced their readiness gap with white students by 14 percent. The school-readiness gap between black and white students also stopped widening, though the study was not able to determine whether it had closed significantly.
The authors believe that changes in parenting practices could be behind the trend, as parents of low-income children are more likely now than they were before to read to their children and to help their children use learning resources on the internet.
However, once students enter school the achievement gaps do not continue to narrow, the authors note.
Poor students kept their gains at least through 4th grade, according to reading and math results from the National Assessment of Educational Progress, but the gaps did not continue to close after children entered school, Reardon noted.

The closing academic gaps, he said, are "not because schools are getting more equal, but because something in early childhood is becoming more equal," Reardon said. "It would be great if you could have both, but we do have one."
An article by Eric Hanushek published earlier this year in Education Next looked at changes in the achievement gap between 1965 and 2013.
Hanushek wrote
After nearly a half century of supposed progress in race relations within the United States, the modest improvements in achievement gaps since 1965 can only be called a national embarrassment. Put differently, if we continue to close gaps at the same rate in the future, it will be roughly two and a half centuries before the black-white math gap closes and over one and a half centuries until the reading gap closes.
– Education Next