Rocketship Education, a California-based charter management organization, opened a school in Milwaukee in 2013, its first school outside of California.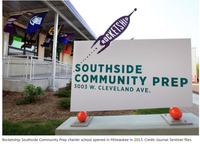 Business and political leaders had worked hard to woo Rocketship to Milwaukee, and at one point Rocketship planned to open eight schools in the city.
Today, Rocketship Southside Community Prep is one of the city's higher-performing charter schools, but as Annysa Johnson reports in the Milwaukee Journal Sentinel, the school has fallen short of its enrollment goals and is running a $1.4 million deficit. In her article, Johnson looks at the challenges Rocketship has faced in Milwaukee.
Richard Whitmire, author of the book On the Rocketship, was interviewed by Ed Next's Mike Petrilli for the Ed Next Book Club in 2014.
Jonathan Schorr and Deborah McGriff wrote about Rocketship for Education Next in "Future Schools" in 2011.
– Education Next