Reducing teen pregnancy is one of the major social policy success stories in the United States, notes Zoe Greenberg in the New York Times. In the past 25 years, the teen birth rate declined by 61 percent nationwide, she reports.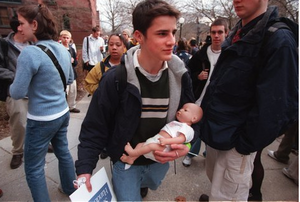 But oddly enough, one popular program used by schools to discourage teen pregnancy may not be effective.
Greenberg writes
For more than two decades, educators with high hopes of preventing teen pregnancy have assigned their students computerized baby dolls, programmed to cry, coo, and make life complicated, just like a real baby.

"Having a baby can change a teen's life in many ways… Experiencing those changes firsthand can help convince teenagers that putting off parenthood is a good idea," one woman explains in a laudatory video about the program.

But a new report found that caring for a fake infant actually makes it more likely that teens will get pregnant, not less.
The new study, published in The Lancet, looked at a program in Perth, Australia which is an adaptation of a program that is popular in the U.S. (That program was formerly known as "Baby, Think it Over." The girls in the treatment group "were more likely both to experience a birth and to have an abortion before the age of twenty than those who hadn't had the intervention," writes Greenberg.
She notes
It's not immediately clear why the dolls increased the pregnancy rate among the teenagers, but it may be because they were fun, encouraging teenagers to idealize parenthood instead of cautioning them against it.

"Teenagers playing with their dolls receive positive feedback from their peers and family at an age when they crave such attention," Julie Quinlivan, a professor of obstetrics and gynecology at the University of Notre Dame in Australia, wrote in a companion paper to the study. She also hypothesized that the intervention may have failed because it only targeted girls, or because it came too late in a teen's life.
A spokesman for the program says that the curriculum used in the U.S. is much more extensive than the one used for the study, and that the girls in the intervention group were poorer than the girls in the control group.
Peter Meyer wrote about his child's experience with "Baby, Think it Over" for Education Next in 2007.
– Education Next