In a speech this evening at the National PTA Convention in Orlando, U.S. Secretary of Education John B. King, Jr. will call on parent and teachers to create diverse schools where students of all racial and socioeconomic backgrounds have access to good teachers and learning opportunities like he did.
"Like math and reading, like science, social studies, and the arts, diversity is no longer a luxury," King will say. "It's essential for helping our students get ready for the world they will encounter after high school and, increasingly, throughout their lives."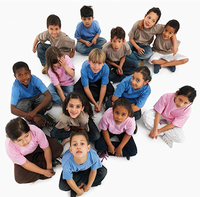 In an interview with Emily Deruy of the Atlantic, King said that he
will make the case that integration benefits not only black and brown students, who are disproportionately low-income, but their affluent white peers, too. "We have this emerging body of research around the importance of diversity for the success of organizations, and businesses," he said, "and so there's a case to be made that diversity is not just about trying to expand opportunities for low-income students, but really about our values as a country and to improve education outcomes for all students."

"In today's working world, your boss may not look like you, your office-mate may not worship like you, your project teammates may not speak the same language as you, and your customer may not live on the same continent as you," he will say in Orlando. "Today, cross-cultural literacy is another way of saying competitive advantage."
For an article in Education Next about diverse schools, Mike Petrilli visited an elementary school in Takoma Park, Maryland that serves "an incredibly diverse group of 3rd, 4th, and 5th graders, from the children of übereducated white and black middle-class families, to poor immigrant children from Latin America, Ethiopia, and Eritrea, to low-income African American kids." The principal of the school works hard to show parents of all backgrounds that the needs of their children will be met by the school.
In another Ed Next article, Jennifer Burns Stillman writes about some of the challenges faced by schools educating a highly diverse student body.
In "Diverse Charter Schools," Alexander Russo writes about schools that are designed to attract families from very different backgrounds.
– Education Next