Organized groups exercise great power in American politics, in part because they contribute so heavily to political campaigns.  For the latest proof of this well-known truth, take a look at the latest health policy deal.
If your health insurance is already expensive, the new law will make it more so. That is guaranteed by the 40 percent tax the Senate has imposed on all insurance above a certain minimum.
Not so for those who work for state or local government, however. If you are a public-sector employee, you will suffer no tax increase at all–no matter how costly your health insurance–if the deal made behind closed doors between Democratic leaders in Congress, the White House, and powerful union officials goes through.
A tax break for those who work for government: One needs no better demonstration of just how powerful teacher unions and the other public-sector unions have become. (The tax break also goes to anyone else who gets their health insurance via a collective bargaining contract, showing that other special interests can get deals too.)
Union power is evident at the state level as well. Teacher unions are quietly undermining charter and merit pay legislation that is supposed to help states "race to the top." In New York, for example, they are asking that every charter school be unionized, and in Massachusetts they are limiting the increment in charter expenditures to one percent a year.
To exercise such power, a hefty cash box comes in handy.  In the attached table and figure, one can see just how much is being spent in each state by the National Education Association and the American Federation of Teachers. (You can click on the table or figure to enlarge the text.)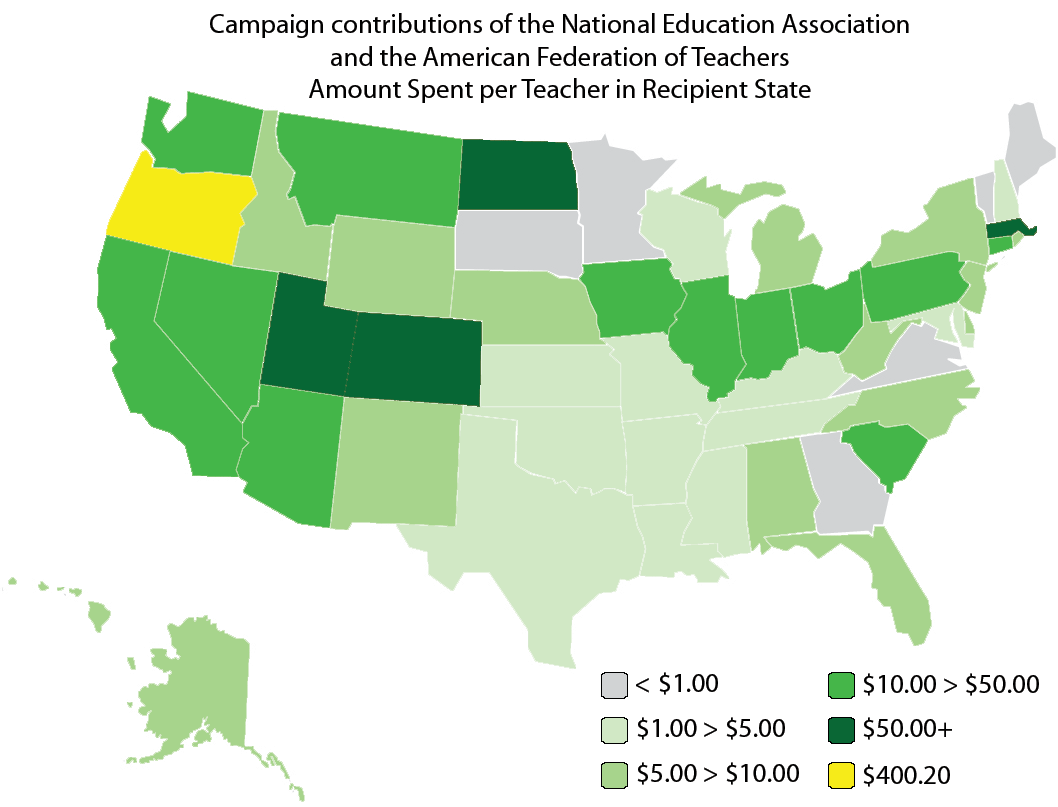 Last updated January 19, 2010