I have a crush on "Hamilton." I've described the play as a miracle of civic education, a gratifying hand-off of America's national identity to a young, diverse generation, and wished for every school kid to see it. I've praised its creator Lin-Manuel Miranda as a visionary genius. Let me pile the praise even higher: "Hamilton" is the most important artistic creation in any medium of its generation and perhaps decades. Particularly at this political, cultural, and social moment in our nation's history, "Hamilton" matters.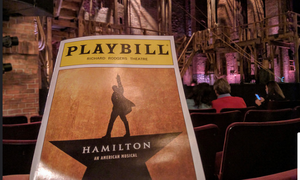 By now you are familiar with the Pence Affair. The Vice President-elect went to see the play Friday night and the cast couldn't resist the opportunity after the show to lecture Pence from the stage.
"We, sir, we are the diverse America who are alarmed and anxious that your new administration will not protect us, our planet, our children, our parents, or defend us and uphold our inalienable rights, sir," said Brandon Victor Dixon, who portrays Aaron Burr. "But we truly hope this show has inspired you to uphold our American values and to work on behalf of all of us, all of us. We truly thank you for sharing this show—this wonderful American story told by a diverse group of men, women, of different colors, creeds, and orientations."
Dixon's script, reportedly written by Miranda himself, wasn't offensive. It was merely banal in comparison to "Hamilton" itself, which if you have functioning eyes and ears delivers much the same message with a visceral wallop.
President-elect Trump, indulging yet again his ready-fire-aim Twitter style upbraided the cast and demanded an apology. The more pointed and potent negative response was from Stevie Van Zandt, the lead guitarist of Bruce Springsteen's E Street Band, who has made a lifetime habit of not keeping his opinions to himself. "You don't single out an audience member and embarrass him from the stage," he tweeted. Challenged by Twitter Jacobins for his failure to toe the political orthodoxy of the moment, Van Zandt fired back with gusto. "Theater should be a safe haven for Art to speak. Not the actors". Van Zandt then joined Trump (don't expect to read those words ever again) in calling for an apology to Mike Pence.
I don't wish to be overly critical of the young, immensely talented, and diverse cast and creators of "Hamilton." But the effect backfired. It registered, to me at least, as a high-profile bit of virtue signaling that ironically handed a public relations win to Pence, who responded not peevishly like his boss, but with grace and humility. "It was a real joy to be there," Pence told Chris Wallace in an appearance on Fox News Sunday. "When we arrived, we heard a few boos and we heard some cheers and I nudged my kids and reminded them, that's what freedom sounds like." Pence heard the curtain call speech and insisted he was not bothered by it.
Argue all you like about the appropriateness of the venue, whether calling out Pence was praiseworthy or condescending, even if he was called out at all. But here's what is surely true: The most powerful statement made from the stage of the Richard Rogers Theatre on Friday night was "Hamilton" itself. The post-performance lecture could only distract from it and dilute the power of the play. And it did.
I can forgive the cast of "Hamilton" for bad manners. What's harder to forgive and even understand is their lack of faith in their own art. Given two-and-a-half hours to win over a man who will soon be a heartbeat away from the Presidency—to show, not tell, how our shared, founding ideals belong to all Americans—the show's creators were somehow unconvinced of the power of their own production. They blunted the impact of "Hamilton" with a wholly unnecessary coda.
"Hamilton" speaks loudly and clearly for the "alarmed and anxious" Americans who created and perform it. Whatever impact it might have had on the Vice President-elect was sacrificed to a debate about whether the venue was appropriate for addressing Pence directly. Manuel and the cast threw away their shot.
– Robert Pondiscio
Robert Pondiscio is senior fellow and vice president for external affairs at the Thomas B. Fordham Institute.
This article originally appeared in a slightly different form in the New York Daily News and first appeared in this form on Flypaper.