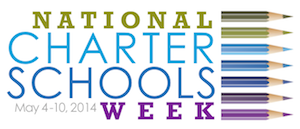 President Obama has declared May 4-10 National Charter Schools Week.
Here's our recommended reading list of articles that highlight what is going on in the world of charter schooling under three headings: charter superstars, hot-button issues, and charter schools and politics.
Charter superstars
looks at BASIS charter schools in Arizona, whose students outscore kids in Shanghai.
tells the story of how the KIPP network of charter schools got started.
describes what it is really like to attend a KIPP charter school.
explores how some charter schools are taking extra steps to help their graduates make it to college and succeed there. (This article won the award for best feature by an education organization or expert, presented by the Education Writers Association earlier this year.)
Hot-button issues
looks at how charter schools influence nearby district schools
examines the evidence on whether charter schools contribution to segregation.
looks at schools, often in gentrifying areas, that try to attract and serve a racially and/or socioeconomically diverse student body.
is about successful charter franchises and how they grow.
Politics and charter schools
looks at the role charter schools are playing in Boston and at political debates over whether there should be more charter schools there.
investigates a special type of charter school in Rhode Island which must have a city's mayor leading the board of the school.
—Education Next