It wouldn't be super-hard to poke fun at Eli Broad. (Diane Ravitch did a mean-spirited version of that when she called him and his peers "The Billionaire Boys Club.") Here's a man who made his fortune building tract housing in the 'burbs, who micromanages grants down to the penny, a man who names more than a few things after himself (the Broad Prize, the Broad Fellows, and his latest museum project, simply The Broad). He's the 1 percent of the 1 percent of the 1 percent, and not ashamed of it, either.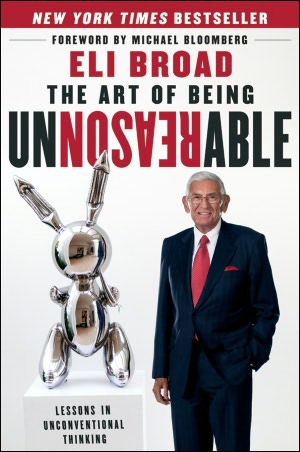 But while some gentle teasing about his non-inconsiderable ego might be in order, Eli Broad deserves something more—namely, a full measure of respect and gratitude. As depicted in his surprisingly affecting memoir-cum-business-advice-book, The Art of Being Unreasonable, he's a pretty amazing guy, someone who has been wildly effective in four separate careers and who now wants to share his hard-earned experience with countless others. As I read the book, my image of Broad shifted, from a semi-caricature of the Arrogant American to an archetypal Self-Made Man from the Midwest. His advice and exhortations reminded me of a very influential tome from my own Midwestern roots: William Danforth's I Dare You. Danforth and Broad share the same spirit: An overwhelming optimism that all things are possible.
I learned a lot from the memoir. For instance: Broad's name used to rhyme with Todd, until young Eli took it upon himself to change the pronunciation (today it rhymes with road) to stop his high school peers from teasing him. Another thing: You can make a lot of money as a homebuilder if you skip the basements, keep projects on a tight timeline, and don't let any raw materials go to waste. Finally: life insurance companies are good investments during economic downturns.
And there's a lot of smart advice. Read four newspapers a day. Don't be afraid to be second (into a new market or industry). Hire young, ambitious whiz kids. Push people to do their best work.
Still, 192 pages later, I was left with a mystery: How to explain Broad's lifelong allegiance to the Democratic Party, other than as an inheritance from his liberal Jewish parents? For there was nothing in the book, really, about his success (or anyone else's) being the product of communal effort or government help. To be sure, there are many glowing passages about his wife Edye, and a short section about an influential college professor who inspired him to work with numbers. But there was no talk of it "taking a village" or the idea that "we're all in this together." No allusions to Malcolm Gladwell's Outliers theory—that anyone's achievements stem largely from accident of their birth and the community that surrounds them. He admires Mark Zuckerberg, he writes, because he is a "self-made" man.
Indeed, the sense one gets is that Eli Broad believes religiously in the power of the Individual—the one man (or woman) who dares to be Unreasonable, ask hard questions, look at problems anew, and make the world conform to his vision.
Yet, as E.J. Dionne and NPR have argued recently, the Rugged Individual is firmly within the Republican camp these days. Liberals and Democrats are supposed to talk like President Obama, who said in his famous 2004 convention speech: "Alongside our famous individualism, there's another ingredient in the American saga — a belief that we're all connected as one people."
Broad doesn't talk—or at least write—like that. And that's not what his education philanthropy has been about, either. He appears to have no patience for the arguments of the apologists (Ravitch included) that "it's the poverty, stupid." He wants to train up super-talented people to be superintendents and turn them loose on urban school systems, to invest in charter school networks that are hitting their numbers and performing miracles regularly. He doesn't want to hear "We can't" when someone else is willing to promise "Yes we can." And to his credit, his relatively modest investments in education have, by all measures, been remarkably effective.
You might not agree with Eli Broad's views on education. But it would be foolish to take him as naïve. His unreasonableness has led to tremendous success for sixty years. And he's not done with America's schools yet.
– Michael Petrilli
Disclosure: The Fordham Institute has received grants from The Broad Foundation in the past.
This post first appeared on the Fordham Institute's Flypaper blog.