Last week my colleague Kelsey Hamilton and I released a look at how much attention the public is paying to education this year. We used the monthly Gallup surveys and the (occasional) CBS News surveys for 2016. You can read the brief here, but I figured I'd give blog readers a quick look at the takeaways.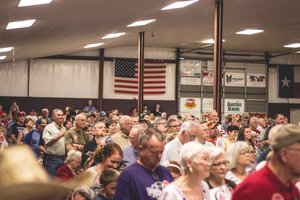 For those who don't track such things, here's the deal: Each month, Gallup asks about 1,000 adults, "What do you think is the most important problem facing this country today?" Respondents write in their answer, and Gallup tabulates those responses into about 30 different categories. CBS News does pretty much the same thing, just less frequently and with about 20 categories.
The share of adults naming education has hovered between two and five percent this year. Most months, it has been at either three or four percent. In the latest September poll, Gallup had it at three percent (and CBS News didn't survey).
Education is clearly not a top-tier issue, but it's also nowhere near the bottom. Gallup has consistently had education ranked around 8th to 12th (out of about 30 issues), and CBS has had it a bit higher. In September, Gallup had education at 11th. Education is a solid second-tier issue.
These numbers are very much in line with recent history. The final Gallup surveys before the 2004, 2008, and 2012 election days all had between two and four percent of respondents naming education as the nation's most important issue. Those same surveys have had education ranked between 9th and 15th by the public. In other words, this year's results are exactly in line for those of the past three presidential election cycles.
These results suggest that it's probably a mistake to overstate the seeming inattention to education this year, even though the phenomenon has drawn notice from a number of media outlets. They may also suggest that topical education questions like college costs, Common Core backlash, and pre-K summon less concern than advocates may hope, or that the public doesn't currently think about these things as national problems.
Finally, the year 2000 is an instructive outlier. While education hasn't been much of a national presence between 2004 and 2016, it was rated as the single most important issue in 2000. In that election, New Democrat Al Gore faced off with compassionate conservative George W. Bush in a contest where both aggressively courted the middle. In a time of peace and prosperity, both regarded education as a promising way to appeal to soccer moms and NASCAR dads. In today's polarized politics, such appeals are less likely and less effective—meaning an educational comeback may depend on a broader shift in the political climate.
In any event, we just report the numbers. What you make of them is up to you.
—Frederick Hess
Frederick Hess is director of education policy studies at AEI and an executive editor at Education Next. This first appeared on Rick Hess Straight Up.