In Tuesday's Wall Street Journal, Paul Peterson and I discuss the sharp increase in support for charter schools among African Americans and Hispanics over the past two years – and especially since 2009.  Our evidence comes from the 2010 Education Next­-PEPG Survey, the complete results of which will be released later this month.   The survey, administered in May and June to a nationally representative sample of American adults, included the following question:
Many states permit the formation of charter schools, which are publicly funded but are not managed by the local school board. These schools are expected to meet promised objectives, but are exempt from many state regulations. Do you support or oppose the formation of charter schools?
Respondents also had the option of saying they "neither support or oppose" charters – an important detail as our previous surveys have indicated that many Americans have yet to take a position on the issue.
The charts below compare the 2010 results with those obtained the previous two years, when we asked exactly the same question.  Support for charters among the public at large has remained relatively stable since 2008, ebbing slightly to 39 percent in 2009 before rebounding to 44 percent in 2010.  Among African Americans, online casino however, support has increased from 42 percent to 64 percent, jumping 15 percentage points in the past year alone.  Meanwhile, Hispanic support for charters has increased from 37 percent to 47 percent.  And charters continue to have relatively few outright opponents, either in the public as a whole or among minorities.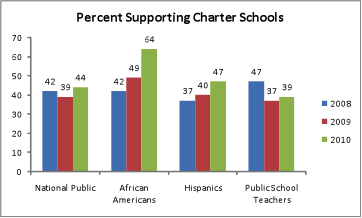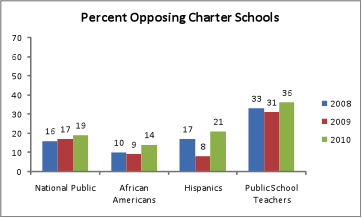 It is puzzling, then, that a coalition of prominent civil rights organizations last week issued a statement criticizing the Obama administration's current emphasis on chartering as a strategy to turn around low-performing schools and bemoaning the heavy concentration of charters in high-minority areas.
Fortunately, the president does not seem to have taken their concerns to heart.  He and his education secretary Arne Duncan, in separate speeches last week to the National Urban League, offered no apologies for their support for charter schools.  It would appear that the president (or perhaps his pollsters) has a better sense of the minority community's views than does the NAACP.