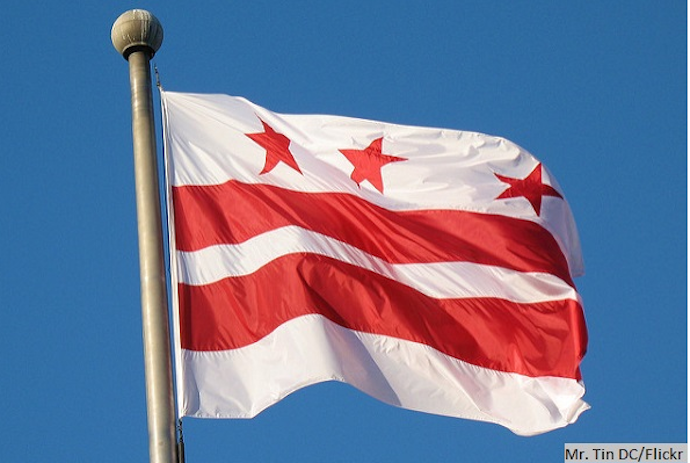 Here's the speech I wish Washington, D.C. Mayor Muriel Bowser would give:
Our great city has a once-in-a-generation opportunity. We have the nation's best urban superintendent. We have a very high-performing charter sector—just named the healthiest in the nation!—that now serves nearly half of the city's kids. Our parents, kids, educators, and citizens should be proud.
But public education in our city is also facing a number of systemic challenges: DCPS asks why it can't function with the same freedoms as the charter sector. Charters ask why DCPS doesn't have to get an authorizer's approval to start new schools—and why district schools aren't held accountable like charters. DCPS says it's unfair that it has to serve as the educator of last resort for all city kids, while charters can choose not to backfill or take mid-year transfers. Charters say it's unfair that DCPS gets to control all of the school facilities and gets more per-pupil funding.
These challenges may seem too many and too daunting. But they're all components of a single issue: We have two sectors, scores of operators, and hundreds of campuses, but we don't have a comprehensive, coherent system of schools.
The good news is that we have the ability to solve all of these problems with four straightforward steps. Even better, the passage of the new federal education law gives us the chance to create a new accountability system that can serve as the vehicle for these reforms.
Therefore, I'm asking for an eighteen-month collaborative effort between the city council, deputy mayor's office for education, office of the state superintendent, DCPS, DCPCSB, and the city's citizens. We should accomplish the following four tasks by September 2017 so we can build an equitable, transparent, dynamic, self-improving, choice-driven, citywide system of schools.
First, DCPS-run schools should be able to operate with the same autonomy as charters. This includes flexibility over calendars, schedules, personnel, and more. The exact details of how they're converted to charter status and organized subsequently are up to DCPS, the council, and the lawyers. But the desired outcome is clear: DCPS gets the freedom to function like a KIPP-style charter management organization.
Second, every single DCPS-run school will be put on a performance contract held by a charter school authorizer. DCPS will retain full operational control of its schools, deciding how to staff, support, and manage them. But each school will be held accountable by an independent, external body. Each school will have a school-specific performance contract, will be monitored for compliance and results, and go through a regular renewal process.
If the school succeeds, it can grow or replicate. If it persistently fails, it will be closed. If DCPS wants to open a new school, it will—like every other D.C. school operator—need the approval of its authorizer. In other words, DCPS gets charter-like autonomy and charter-like accountability. DCPCSB could serve as the authorizer, or the city council could exercise its power under the charter law to create a new, non-district authorizer.
Now, I want to be absolutely clear about what I'm not recommending. This plan would not give DCPS charter-authorizing power. This plan is not a "portfolio district" approach. DCPS would not be asked to oversee schools run by others or manage the city's entire portfolio of public schools. This plan allows DCPS to focus on the core work of operating its schools.
Put another way: DCPS will not authorize charter schools; its schools will be authorized. DCPS will not be a portfolio manager; it will be part of the portfolio.
If these two actions are taken, the District will be the nation's first comprehensive portfolio city. We will have given autonomy to every operator, separated school operation from school accountability (no entity will do both), and put every public school on a performance contract with an independent authorizer.
Third, since this new system applies a single, simple approach to autonomy and accountability across all public schools, it also needs an equitable system for resources and enrollment. We need one system of schools, not two. It would not be fair if some schools were enrolled via parental choice and others via residential assignments. It wouldn't be fair if some schools backfilled and others didn't. It wouldn't be fair if one operator owned all of the buildings and received more funding. Accordingly, we will need a student-based funding formula, an independent facilities manager, and a new way of enrolling students in all public schools.
Lastly, this new system should be democratically controlled and feature a central entity responsible for a limited number of central functions (e.g., managing facilities, administering a common enrollment system). We could accomplish this by vesting these authorities in the democratically elected mayor, the democratically elected D.C. state board of education, a new "portfolio management" body, or a new type of school board. Whatever its form, this entity would serve as the connective tissue of the new system. But to prevent the consolidation of power and limit the political influence on schools, it would be prohibited from running or authorizing schools.
Thanks to two decades of smart reforms and the work of countless stakeholders, our great city has an exceptional charter sector and a rapidly improving district sector. But it's our turn to lay the foundation for the next decade of improvement. You'll notice that my plan doesn't meddle with curricula or tests or schedules. All of that should be left up to educators. The task before us is creating arrangements that empower families, practitioners, and the community and help develop a continuously improving system of schools.
– Andy Smarick
This first appeared on Flypaper.