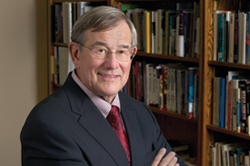 If American schools are in disastrous straits, the high school is ground zero. The late Theodore Sizer, former dean of the Harvard Graduate School of Education, was among the first to explain how high school teachers and students were tacitly conspiring to compromise a vibrant education for boring classroom acquiescence.
On the latest tests of achievement, one sees some progress among 4th graders, even a bit among 8th graders. But the performance of students at age 17 has shown virtually no improvement since nationwide testing began in 1969. Whatever extra students achieve early on is washed away by graduation.
Nor is graduation day itself any more likely for today's young people than it was for their predecessors in 1970. About 30 percent of all 9th graders still fail to finish high school within four years.
The quality of high school teachers has also slipped in recent decades. They are less likely to have scored strongly on the SAT and less likely to come from selective colleges. Moreover, it's the secondary-school teacher whose salary has declined the most relative to other college-educated workers. Putting specialized high-school teachers on the same uniform pay schedule as elementary-school generalists has proven to be a step backward.
Yet the primary and middle-school years have captured most of the reform attention. No Child Left Behind requires testing in grades 3, 4, 5, 6, 7, and 8, but only once in high school. Most charter schools serve mainly elementary students, and young children make up the largest share of the few voucher programs that have been attempted.
Perhaps it is this focus on the early grades that helps to explain the less-than-overwhelming success that either the accountability or choice movements have had. Like the proverbial drunk who hunts for his keys near the lamppost, school reformers have searched for the educational keys to success by looking where the solutions are the easiest, not where the problems are most severe. It is easier to create a new school for young children, and educators almost always prefer to grow their school's enrollment from the bottom up. Elementary-school costs also lag those of high school.
So it is worth highlighting the charter high school findings in this issue. Kevin Booker and his colleagues ("The Unknown World of Charter High Schools," research) find that such schools in Florida and Chicago do better than their traditional counterparts at helping students reach graduation day and ensuring that graduates go on to college. Of course, researchers need to see whether similar results are being produced by charter high schools elsewhere. But if the findings prove robust, charter authorizers and charter-friendly foundations should devote at least as many resources—and perhaps even more—to creating alternatives for high school students as they do to opening charter doors to kindergartners.