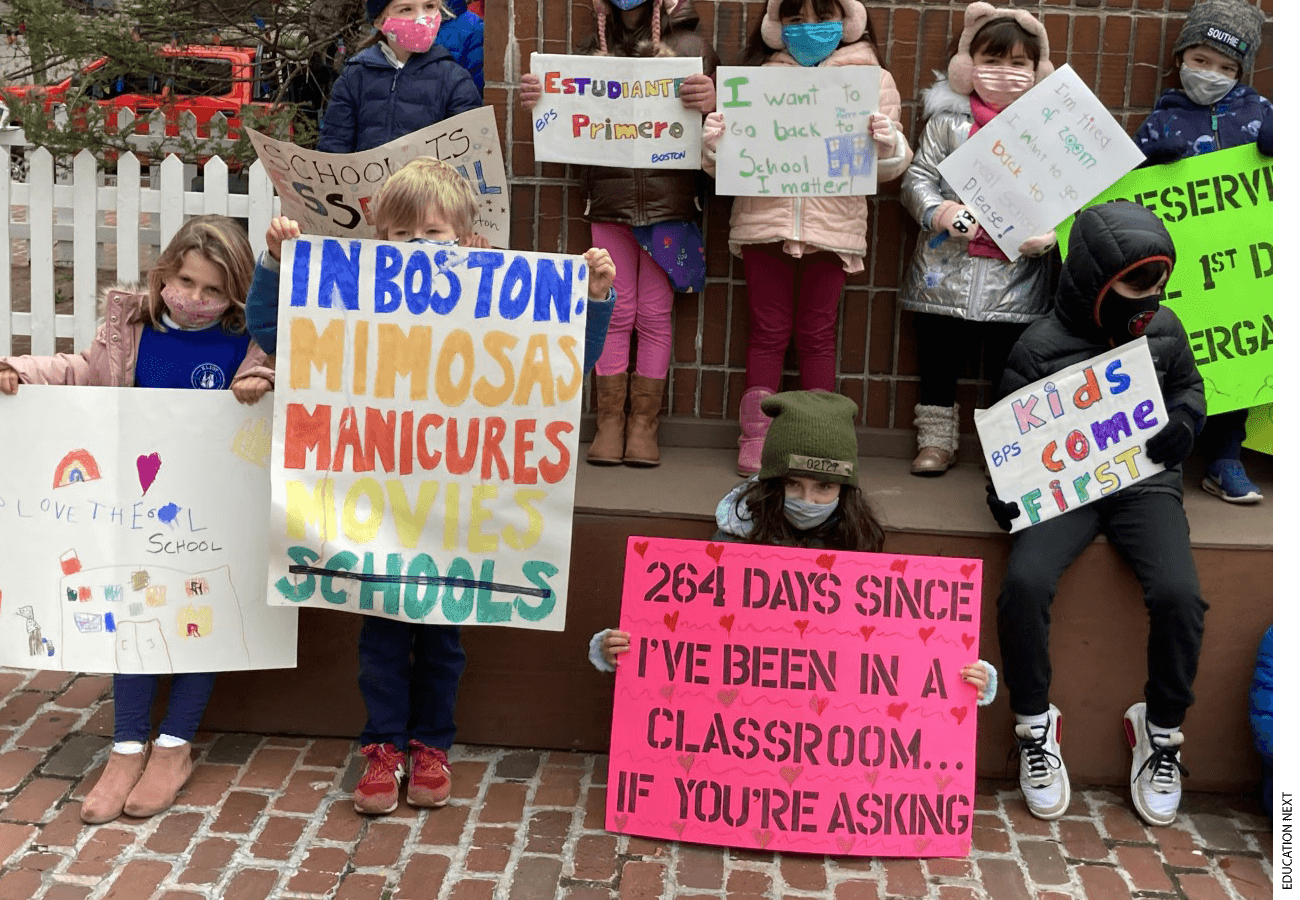 Boston public school parents and students frustrated by the city government's failure to open in-person school for most of the city's public school students are organizing, staging a rally outside City Hall to prod the city to do better.
Dozens of parents and students braved the both the pandemic and the city's notoriously bleak and windswept City Hall Plaza on Wednesday December 2 to march in a circle, pose for pictures, speak to reporters, and hold hand-lettered signs with slogans like "I Need to be in School!"
Whether the activism over the school closure will last past the eventual end of the pandemic is an open question. But if one listened carefully, one could detect the possible stirrings of a political awakening, as Boston public school parents confronted the reality that some combination of union power and political and bureaucratic failure has kept their children out of school buildings.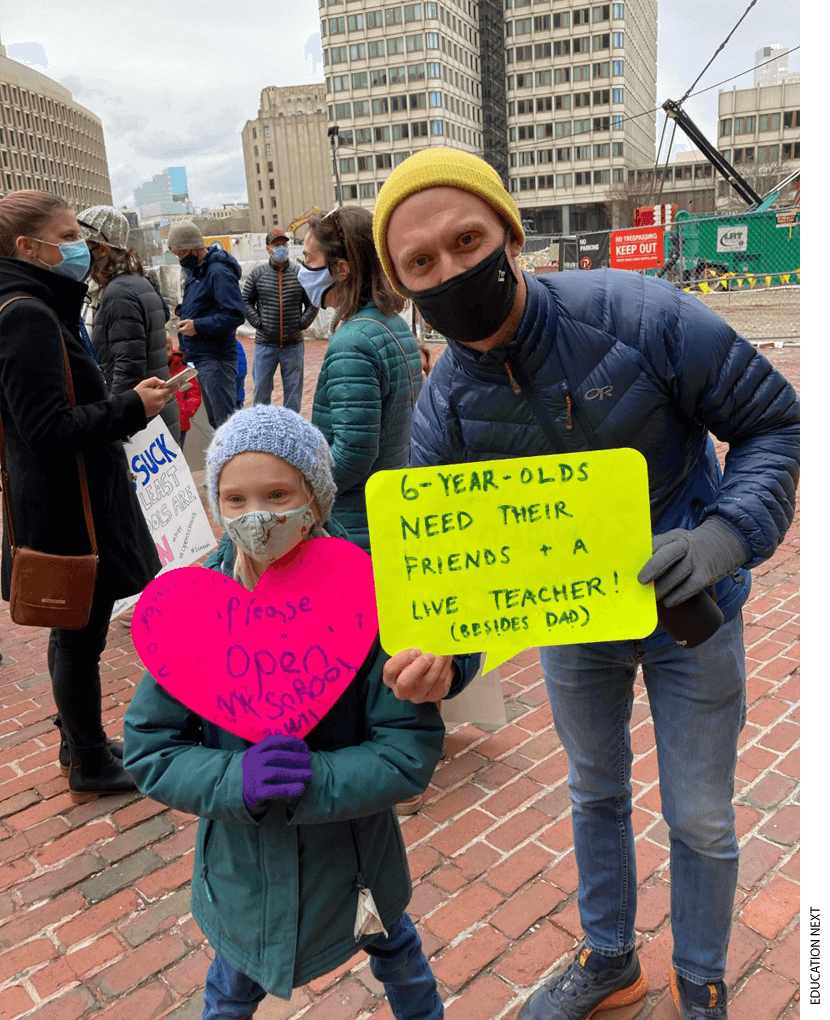 One organizer of the protest, Steve Holt, an East Boston magazine editor with an 8th grader and a 1st grader at the Eliot Innovation School, said he was "confused" that Boston's bars, restaurants, and gyms are open for business, but school buildings are not. "I don't understand the disconnect there," Holt said.
He said the parent movement had started in Charlestown but spread citywide, without outside funding. "It's totally grassroots," he said, noting that parents already functioning as teachers of their own children and as workers at their jobs have had to add "advocate" to their list of titles.
Holt said that though schools in other cities, including in Massachusetts, have opened more widely, in Boston the teachers union seems "just dead set against opening in any form."
He said that Boston has managed to devise vaccines against the virus and has some of the nation's best hospitals. "Why can't we figure out a plan" to get schools open, he asked.
He rejected the idea that the re-opening school push was a project of President Trump and Republican governors. "I'm a liberal Democrat. I think the majority of the people I have met through this are as well," he said. "This is a social justice issue."
Another Eliot school parent from East Boston, Jodi Delrazo, said the quality of the online instruction has been "very good," with teachers doing a good job. "But still it doesn't substitute for in-person," she said. The lack of physical school affects children of different ages differently, she said. Her 8th grader misses the social contact, while her 4th grader is missing out on the learning.
Delrazo described herself as "frustrated" by the failure of the mayor, the school superintendent, and the union to reach an agreement on re-opening. "They've had since March 7 to figure it out, and still nothing" she said. "They're just thinking about the fall. That was worrisome to me."
Delrazo, who works in international education, said she has watched as students in Europe "are successfully going back."
"Why aren't the schools open?" she asked. "Boston has to make an effort."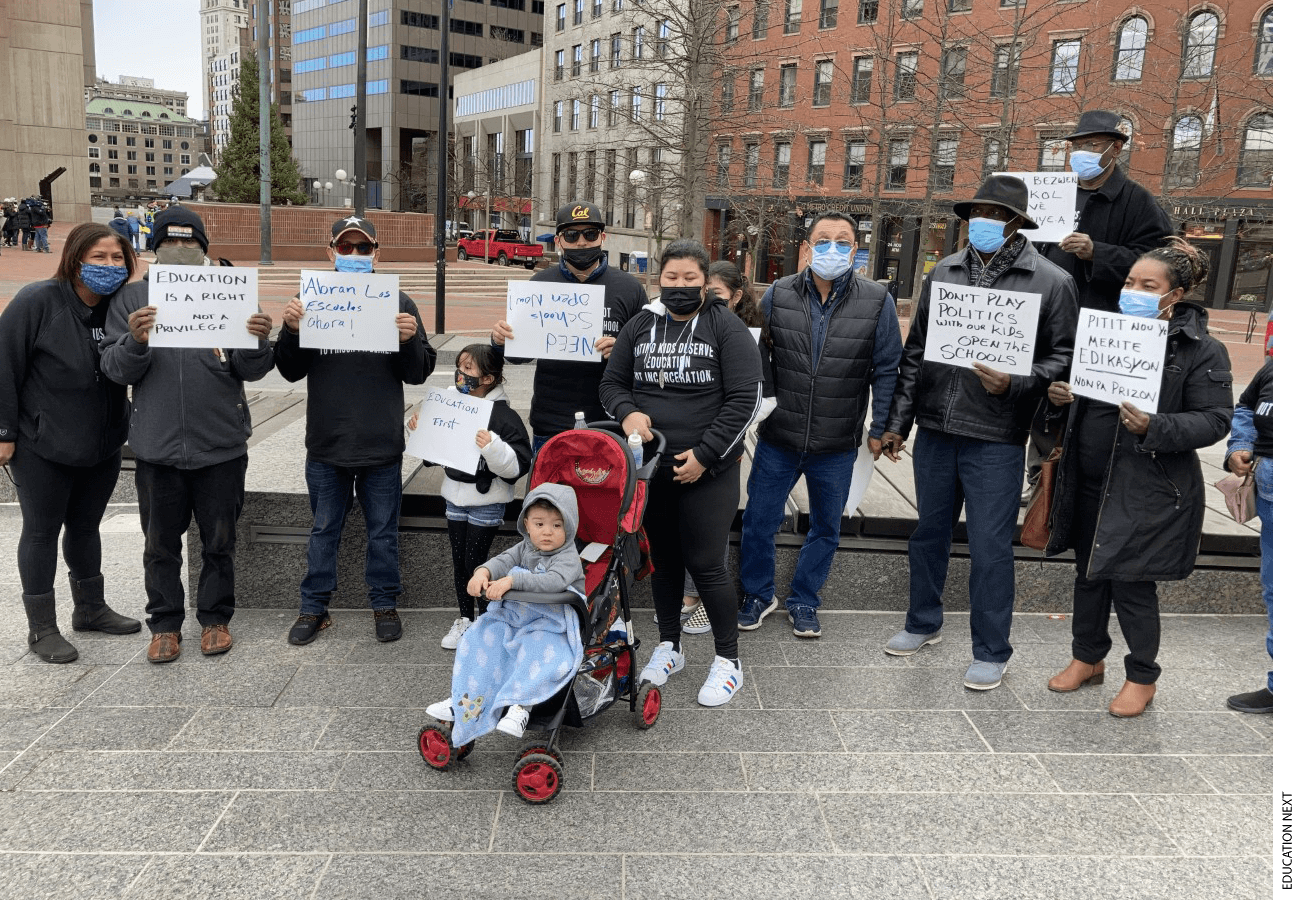 Celia Avila, 19, of South Boston, is a senior at Boston English High School. She was at the rally with her grandmother, Julia Vera, who was wearing a t-shirt with the words "Latino Kids Deserve Education, Not Incarceration." They were there as part of a contingent from Massachusetts Parents United, an advocacy group.
"I prefer school because sometimes the Internet is bad. I cannot understand the class," Avila said. She said that online, the students all talk at the same time, making it harder to learn. And she said she misses seeing her friends in person.
In a November 12 letter to parents, the Superintendent of Boston Public Schools, Brenda Cassellius, wrote, "We have heard from many of you that while remote learning has greatly improved, for many students in-person learning is the best approach. We are committed to reopening school buildings as soon as we can, in collaboration with the City and our partners."
The city's mayor, Martin Walsh, said this week "I would love to have our kids in school right now," acknowledging that the educational effects of remote-only classes "are going to be pretty detrimental in some ways," according to WHDH. If the city gets better control over the virus, "we will begin the process of reopening schools right after the new year, hopefully," Walsh said, according to the tv station.
An enrollment analysis distributed by the Boston Schools Fund found the city's district schools had lost 2,368 students in fall 2020 compared to fall 2019, or 4.69% of its student population. Boston Catholic Schools, which are open for in-person learning, have seen enrollment growth of thousands of students and hardly any Covid-19 cases, a fact that Massachusetts Governor Charles Baker has pointed out in urging most schools to re-open.
Ira Stoll is managing editor of Education Next.
Last updated December 2, 2020