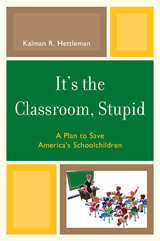 Kalman R. Hettleman
It's the Classroom, Stupid: A Plan to Save America's Schoolchildren
Rowman & Littlefield 2010
200 pages
Flaunting jacket blurbs from some of my favorite people in the education field, this book–declares its author–"proposes to turn on its head conventional wisdom about how to reform the education of America's poorest students." And that's pretty much what it would do. It offers three revolutionary recommendations, two of which are sound: abolishing local school boards and putting mayors in charge, and bringing in "outside leadership, feature non-educators…to retool and manage instructional support systems for classroom teachers." The third recommendation–much more control of K-12 education by the federal government–gives me pause. But I have to admit that the author makes a strong case.
He is a veteran of school reform wars in Baltimore and the state of Maryland and a longtime constructive analyst and commenter on education issues. He has concluded that most reform efforts neglect what actually happens in classrooms; that the needs and interests of lower-class kids are often trumped by middle-class priorities; that ideology looms far too large; and that "educators are their own worst enemies."
Perceptive indeed. Whatever you end up thinking of his bold proposals, he won't bore you and he's likely to open your eyes to some crucial realities that many of us tend to slide past because they're so awkward–or intractable.