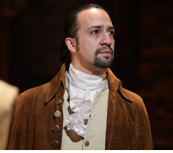 On Top of the News
Why I Want My Students to Read Ta-Nehisi Coates But Believe Lin-Manuel Miranda
The 74 | 3/3/16
Behind the Headline
No Excuses Kids Go to College
Education Next | Spring 2013
Writing for The 74, Robert Pondiscio considers  the impact on his students of Ta-Nehisi Coates and Lin-Manuel Miranda, two "young men of color who have created two of the most praised and dissected cultural works of the moment."
Both were recent and richly deserving Macarthur Foundation "genius grant" recipients. Each turns his creative lens on our nation. But their respective visions of America signaled through their work, could scarcely be more different.
Miranda is the creative force behind Hamilton. Of that Broadway show, Pondiscio writes
It is impossible to think of our founders merely as dead white males once you have seen them embodied by young black and brown ones. On stage nightly, "Hamilton" transfers ownership of America's narrative and ideals to those whose grip on them has been fraught for more than 200 years.
He notes
There's likely not a history or civics teacher in America who wouldn't pay dearly to have her students see "Hamilton". It's harder, however, to account for education's romance with Coates, whose book "Between the World and Me" won the National Book Award and is already widely assigned in high school English classes and required reading on college campuses.

The book, an extended letter to his son, is a powerful jeremiad, however his message seems hopeless, even nihilistic. Coates' America is structurally and irredeemably racist, and our schools offer no sanctuary.
Which work will have more influence on students like his, Pondiscio wonders.
For the moment, Miranda seems to have the upper hand in this argument. "Hamilton" is the toast of Broadway; its soundtrack one of the most downloaded rap albums in history.  Its praises sung by AP U.S. History teachers, its lyrics sung from the backseats of minivans. However, Coates may have the last word with our students.
He concludes
As a teacher who works exclusively with students of color, I do not have the luxury — none of us do — not to offer some hope to our students on behalf of this country, whose optimistic citizens built our schools and pay our salaries, yet which still has much to answer for.
****
Robert Pondiscio's articles for Ed Next include "No Excuses Kids Go to College," a look at some of the challenges faced by low-income students enrolling in college after graduating from "No Excuses" charter schools, and at how those charter schools are trying to help their alumni succeed. The article received a first prize award from the Education Writers Association.
– Education Next
Last updated March 4, 2016