On Top of the News
What Will Remain of StudentsFirst?
Politico Morning Education | 4/4/2016
Behind the Headline
Fight Club
Education Next | Summer 2012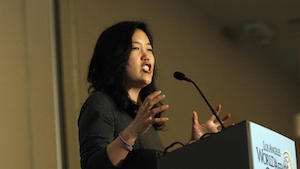 StudentsFirst, the education reform organization started in 2010 by former D.C. schools chancellor Michelle Rhee, announced last week that it is merging with another education reform group, 50Can. Joy Resmovits gives a short history of the organization here.
Politico's Caitlin Emma describes how the merger will work here. As she notes in Politico's Morning Education tipsheet
— 50CAN, unlike StudentsFirst, has a growing budget and a growing number of funders. 50CAN's current operating budget is about $8 million, up from $2 million in 2010 when the organization was started. The group has received donations of $1,000 or more from 153 unique contributors and the average gift is approximately $10,000. Porter Magee said the merger combines the two best aspects of both organizations: StudentFirst's ability to influence the passage of legislation — like parent trigger laws that allow parents to intervene in low-performing public schools and turn them into charter schools — and 50CAN's broader advocacy work, he said. "I'm convinced that it will become clear in time just how valuable it is to have those two things under one roof," he said. "It's a merging of those different but complementary strengths."
Pat McGuinn looked at education advocacy organizations for EdNext in 2012. He wrote
Every few weeks, a group of education reform advocacy organizations (ERAOs) gathers in Washington, D.C., to compare notes and plot strategy in what is (half in jest) referred to as "fight club." Like the subject of the 1999 David Fincher movie, this fight club sees itself as the underdog in an epic struggle for freedom and equality. While the target of the film's ire is consumerism, these national ERAOs and their counterparts at the state level are focused on enacting sweeping education policy changes to increase accountability for student achievement, improve teacher quality, turn around failing schools, and expand school choice.

As Terry Moe documents in his recent book, Special Interest, for decades the politics of school reform have been dominated by the education establishment, the collection of teachers unions and other school employee associations derisively called the "blob" by reformers. But the past two years have witnessed an unprecedented wave of state education reforms, much of it fiercely opposed by the unions. The ERAOs played an active role in pushing for these changes, and it is clear that they are reshaping the politics of school reform in the United States in important ways. But does the reform blob really stand a chance of defeating the education blob?
—Education Next
Last updated April 5, 2016