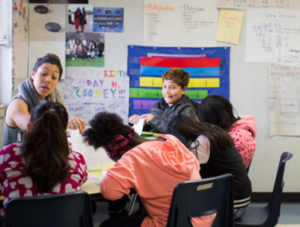 On Top of the News
Testing for Joy and Grit? Schools Nationwide Push to Measure Students' Emotional Skills
New York Times | 2/29/16
Behind the Headline
Non-Cognitive Measures Not Ready for Accountability
Education Next blog | 12/3/15
About five years ago, it started to become popular for schools to teach students social-emotional skills like grit, self-control, and perseverance after research showed that these skills improved academic performance. Teaching social-emotional skills was also seen as a way to move schools away from a narrow focus on test scores and to consider instead the whole child, writes Kate Zernike in the New York Times. But as Zernike notes, there is little agreement today on what skills matter and whether schools can or should teach these skills.
A group of schools in California is now experimenting with testing students on how well they have learned key social-emotional skills. Zernike notes that
A recent update to federal education law requires states to include at least one nonacademic measure in judging school performance. So other states are watching these districts as a potential model. But the race to test for so-called social-emotional skills has raised alarms even among the biggest proponents of teaching them, who warn that the definitions are unclear and the tests faulty.
On the EdNext blog, Jay Greene describes a study he conducted with Anna Egalite and Jonathan Mills to investigate whether different ways of measuring social-emotional skills generated consistent results.  He writes
Our research showing the lack of relationship between behavioral and self-reported measures of character skills adds to the case for caution in using these measures for evaluation or accountability purposes.  Remember, it took decades of research and practice to develop reliable standardized tests.  A similar effort and patience will be required to develop reliable measures of character skills.
 — Education Next
Last updated March 1, 2016