On Top of the News
New Research Shows How a Federal School Turnaround Program Backfired in North Carolina
The 74 | 3/23/2016
Behind the Headline
The Turnaround Fallacy
Education Next | Winter 2010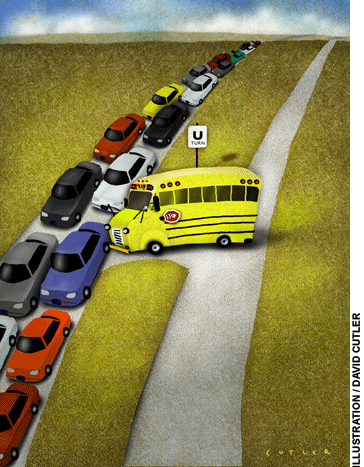 A new study examining North Carolina schools that were part of the state's turnaround program finds that the program "had at best no effect on student achievement, and by some measures had a negative impact," explains Matt Barnum in the 74. The turnaround program studied here was funded by federal Race to the Top dollars. The study, by Helen Ladd of Duke and Jennifer Heissel of Northwestern, was released as a working paper by the research group CALDER.
Andy Smarick made the case against school turnaround efforts in a 2010 EdNext article "The Turnaround Fallacy."
He has also written extensively for Education Next about the decision made by Education Secretary Arne Duncan to pursue an expensive effort to turn around failing schools using School Improvement Grants.
In 2009, Emily Ayscue Hassel and Bryan Hassel made the case for attempting turnarounds in "The Big U-Turn."
—Education Next
Last updated March 25, 2016