On Top of the News
National Teacher of the Year: I Was a Teenage Mom, and Teachers Changed My Life
Washington Post | 4/29/16
Behind the Headline
What Teachers of the Year Have to Say about Federal Education Policy
Education Next blog | 4/8/16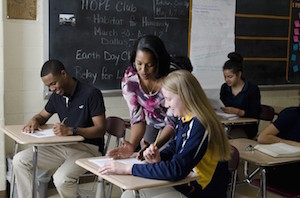 Jahana Hayes, a history teacher at John F. Kennedy High School in Waterbury, Conn., has been named this year's National Teacher of the Year.
Emma Brown describes Hayes' background in the Washington Post
She grew up surrounded by poverty, drugs and violence in the fading industrial city of Waterbury, Conn. But she loved school, and her teachers told her she could someday go to college. Even when she became pregnant at 17, her teachers refused to give up on her. They showed her how she could continue her education.

She graduated from high school and seven years later enrolled in a community college. She went on to earn a four-year degree, and then she realized her dream: She became a high school history teacher in the same town where she grew up.

For the past decade, she has worked to give her students at Waterbury's John F. Kennedy High School the same hope and passion and confidence that her teachers once gave her.
Earlier this month, Rick Hess wrote about a survey that asked state teachers of the year to share their views on key education policy issues. He noted
Respondents pegged the most fruitful areas for education research as, in order, teacher preparation, the comparative analysis of instructional strategies, and brain research. That sounds like a pretty reasonable list to me.

Respondents also flagged the most promising policies for incentivizing excellent professional development as, in order, access to a highly supportive principal, the chance to watch peers model effective teaching practices, access to a mentor, and common planning time with colleagues. These are not only sensible, but they are things that systems and schools can move on without requiring vast new resources.

This is the kind of practical advice from seasoned professionals that administrators and policymakers sorely need—and need to treat very seriously.
—Education Next