On Top of the News
Inside Educators' Emotional Debate about 'No Excuses' Discipline
Chalkbeat New York | 3/8/2016
Behind the Headline
What Explains Success at Success Academy
Education Next | Summer 2015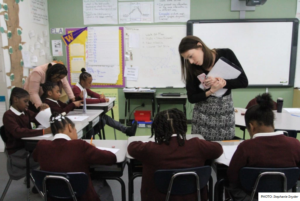 In a long, thoughtful piece for Chalkbeat New York, Elizabeth Green looks "beyond the viral video" of a Success Academy teacher shaming a first-grade student to consider the pros and cons of the No Excuses approach to discipline and learning.
On one side of that debate: educators and parents who argue that the no-excuses approach is not only defensible, but the only way to solve racial and class inequities in schools and beyond. These people grant that the no-excuses style has imperfections; indeed, moments like the distressing reprimand captured in the video of Dial make it very much a work in progress. But they say the strong academic results of "no excuses" schools prove that the model only needs evolving, not fundamental change.

On the other side: An equally passionate group arguing that no-excuses practices are systematically abusive and a form of institutional racism, undermining any academic gains they may enable. These critics are not just speculators. They include people who have taught and still do teach at no-excuses schools.
In the end, Green concludes (spoiler alert!) that the No Excuses approach needs to be overhauled, but that " if there is one group of schools that have shown they have what it takes to help teachers learn and change over time, it's the high-performing charter schools founded in a no-excuses approach."
***
In "What Explains Success at Success Academy," Charles Sahm took a close look at what is being taught in Success Academy schools and how.
"The Softer Side of No Excuses," by Alexandra Boyd, Robert Maranto and Caleb Rose, examined the culture of No Excuses schools.
— Education Next