On Top of the News
Diddy Is Opening a Charter School. When Did They Become a Hot Celebrity Accessory?
Slate | 3/30/2016
Behind the Headline
No Business Like Show Business
Education Next | Winter 2007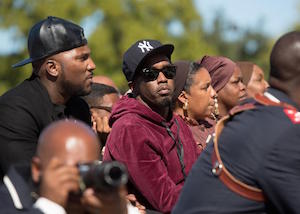 In Slate, Laura Moser reports that "hip-hop and fashion impresario Sean "Diddy" Combs hopped on the bandwagon of celebrities who dabble in charter schools when he announced plans to help launch a new charter in his birthplace of Harlem."
Capital Preparatory Harlem Charter School is scheduled to open this fall and hopes to enroll 160 students in sixth and seventh grades.
Moser identifies many other celebrities who have been involved with starting or supporting schools: Oprah Winfrey, Angelina Jolie, Shakira, Andre Agassi, Pitbull, Magic Johnson, Sandra Bullock, Viola Davis, Meryl Streep, and Deion Sanders.
Mike Petrilli was on top of this story back in 2007 when he wrote "No Business Like Show Business: Hollywood and Hip-Hop Discover Charter Schools" for Ed Next.
—Education Next