On Top of the News
Chicago Public Schools 101: The Politics, Passion, and Hopeless Financials Behind a System in Crisis
The 74 | 4/5/16
Behind the Headline
Mayoral Control in the Windy City
Education Next | Spring 2014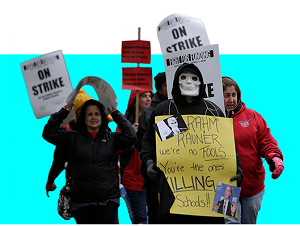 Matt Barnum and Naomi Nix of the 74 tell you all you need to know about what's happening in Chicago now, answering questions starting with Why is Chicago in the news? Who is Rahm Emanuel? and Who is Karen Lewis? and moving on to What happened during the last strike? What is the financial situation in Chicago schools? Have recent reform efforts improved Chicago's schools? and Why is Chicago important in the larger education debate?
Alexander Russo wrote about the early days of Rahm Emanuel's rule in Chicago and the financial challenge he would face in "Mayoral Control in the Windy City: Rahm Emanuel Battles to Improve Chicago's Schools," in the Spring 2014 issue of EdNext.
He wrote
When former U.S. congressman and Obama administration chief of staff Rahm Emanuel marched triumphantly into the Chicago mayor's office in 2011, he promised to revamp Chicago Public Schools (CPS) in ways that had barely been contemplated in 16 years of mayoral control over the city's sprawling public-school system.

Longtime Chicago mayor Richard M. Daley had won control over the school system in 1995 and generally received accolades for rising scores on state tests; hard-charging superintendents, including Paul Vallas and Arne Duncan; tough accountability measures such as reduced social promotion; and a slew of new schools and shiny buildings. But the state, the city, and the schools were struggling financially. Chicago shed 200,000 citizens between 2000 and 2010, the only one of the nation's biggest cities to lose population during that time period. Among big cities, Chicago emerged from the 2008 recession in worse financial shape than most. The 2007 teachers' contract gave educators a 4 percent salary increase, boosting their compensation well above the state average.

And by the time Daley departed in 2011, the 400,000-student CPS had lost its reputation as a cutting-edge school district. Its NAEP (National Assessment of Educational Progress) scores were lackluster (see Figure 1).The district was still offering kids just 170 school days and just over five hours of instruction per day (compared to the national average of nearly seven hours). Chicago had never even made the finals for the Broad Foundation Prize, which is awarded annually to an urban district for marked improvement in student achievement. There were barely more than 100 charter school campuses, serving fewer than 40,000 students. As was the case statewide and elsewhere, the pension time bomb was ticking; pension obligations would soon require more than 10 cents of every dollar CPS spent. At the end of the 2010–11 school year, CPS faced a $1 billion budget deficit.

"There is no other school district in the nation that has as grotesquely underfunded a school system as Chicago," said Laurence Msall of the Civic Federation.

To make a real difference, the impatient Emanuel would have to restore the city's reputation as an education innovator, retain and attract more parents of school-age children, and confront a series of financial challenges. While no one knew it for sure at the time, there would be no federal Race to the Top funding, nor even, as it turned out, a federal waiver from No Child Left Behind that would free up existing federal dollars for new programs in Chicago. Emanuel and CPS were on their own.
—Education Next