On Top of the News
Better Adult Outcomes (not Test Scores) for Charter School Students, Florida Research Shows
Hechinger Report | 4/11/16
Behind the Headline
The Impact of School Vouchers on College Enrollment
Education Next | Summer 2013
A study released earlier this month by Mathematica finds that students attending charter high schools in Florida scored lower on achievement tests than students in traditional public schools, but years later, the charter students were more likely to have attended at least two years of college and also had higher earnings.
Jill Barshay reports for the Hechinger Report
"This is the first study on any scale that has been able to look at college persistence and earnings," said Brian Gill, a senior fellow at Mathematica Policy Research, a private research firm based in Princeton, N.J., who was a co-author on both studies. "Ultimately, these are more important outcomes than test scores."

Gill and his colleagues at Georgia State, Vanderbilt and Mathematica found that the young adults who had attended a charter high school made $2,300 more a year, on average, between the ages of 23 and 25, than their counterparts at traditional high schools did. And the charter school students were 11 percentage points more likely to have attended at least two years of college. That's a substantial difference when looking at four years of students across 44 charter high schools operating in Florida between 1998 and 2005. College graduation figures weren't available, and for many of these students — attending college part time while working — it's still too early to judge.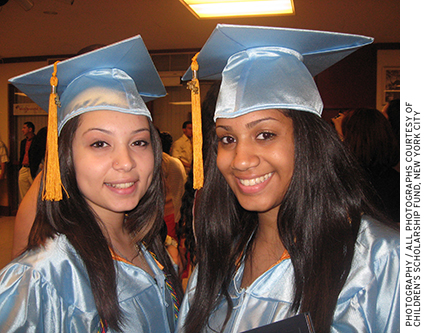 A study published in Education Next in Summer 2013 was able to investigate the long-term impact of another intervention — school vouchers. As authors Matt Chingos and Paul E. Peterson wrote,
Few experimental evaluations have estimated the long-term impacts of interventions taking place during the regular years of schooling. Public school choice for disadvantaged students in the Charlotte-Mecklenburg school district in North Carolina was shown to reduce incarceration rates, especially among high-risk students (see "Does School Choice Reduce Crime?" research, Spring 2012). Another study found that class-size reduction in Tennessee's K–3 classrooms increased college enrollment rates by about 6 percentage points among African American students, although no impacts were observed for white students.
The 2013 voucher study found that being offered a voucher had the effect of increasing college enrollment for African American students but not  for other students.
—Education Next