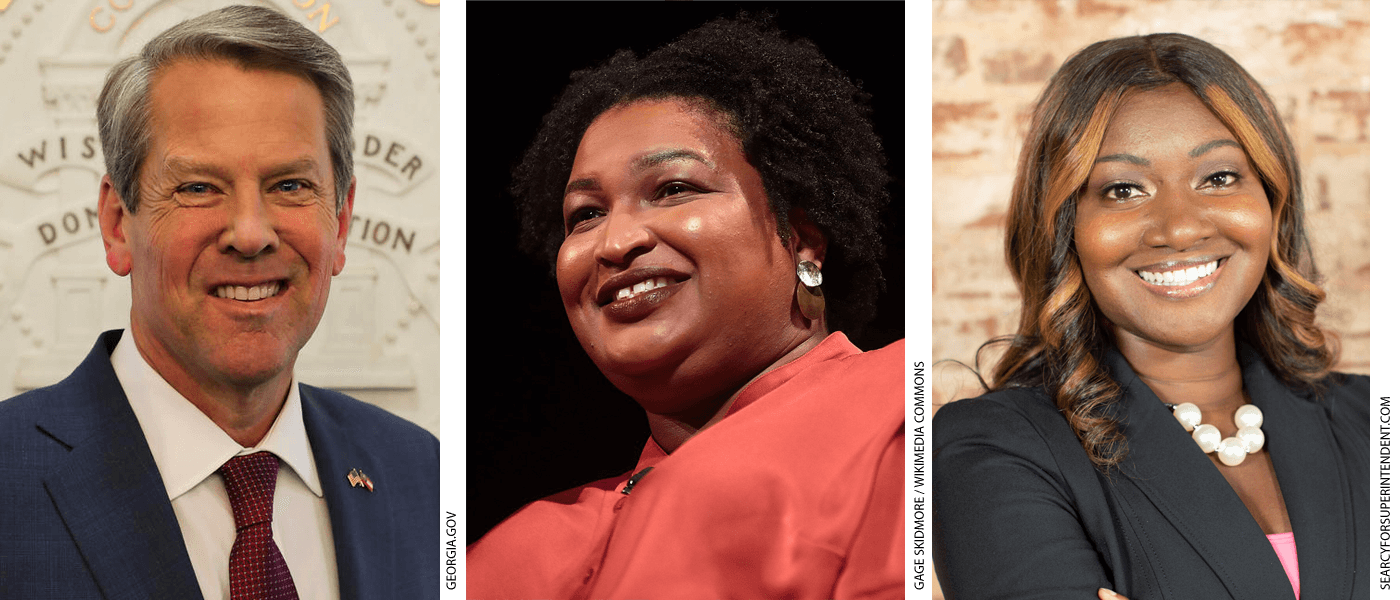 As the contest for governor of Georgia heads into the home stretch, the Democratic candidate, Stacey Abrams, is releasing a campaign commercial showing her in a classroom with children. "I'll raise teacher salaries," Abrams says, "and invest in pre-k and schools."
At a recent televised debate, the Republican incumbent, Brian Kemp, defended legislation he signed that included guidelines for teachers about approaching "divisive concepts." Said Kemp, "people are tired of their kids being indoctrinated in the classroom."
Will the Georgia campaign be a repeat of Glenn Youngkin's election victory in Virginia in 2021, in which education was a key issue? It might seem that way based on the debate clip and the Abrams commercial. But the reality is more complex. The candidates are certainly talking about education. Polling, though, suggests other issues are higher on the minds of voters. And the liveliest Georgia statewide race about education issues may not be the one for governor, but the one for state school superintendent.
In the state school superintendent contest, the Democratic candidate, Alisha Thomas Searcy, is a former state representative who is openly supportive of public charter schools and who backed tax credit scholarships. The Georgia Association of Educators, the state affiliate of the National Education Association teachers union, has endorsed the Republican incumbent, Richard Woods. Searcy and Abrams, both Democrats, have clashed, with Searcy publicly complaining that she had been "ostracized and excluded" by the Abrams campaign. "We are supposed to be the party of the big tent, the party to embrace diversity and the party that stands up for those who are left out," Searcy said.
Some statewide election polling hasn't even included education on a list of issues voters were asked about as possible priorities. A September Marist poll asked voters about inflation, abortion, health care, immigration, and "supporting democracy." An October Quinnipiac Poll listed eight issues—abortion, inflation, climate change, election laws, racial inequality, gun violence, health care, and Covid-19—but not education. A July Fox News Poll on the Georgia Senate race did include education as an issue. That survey found only two percent of voters listed education as "most important," far below inflation, abortion, election integrity and voting rights, guns, border security, or crime.
That hasn't prevented the candidates from talking about the issue. Governor Kemp's K-12 proposals focus largely on helping schools recover from pandemic fallout. His plans include recommending $25 million for a Learning Loss Opportunity Scholarship Grant, $25 million for local school systems to recruit more school counselors, and $15 million for a grant program to help paraprofessionals offset the cost of obtaining teacher certification to build the teacher workforce.
"We have more work to do to address pandemic learning loss, bring more educators and counselors into our schools, and keep our students and staff safe," Kemp said in September when unveiling his K-12 proposals. "By working with our local school systems and providing targeted funding to bring these kids back up to grade level, I am confident we can lend a helping hand to the students who need it most." In the recent debate between the candidates, Kemp portrayed his proposals as an extension of his work as governor "pushing to get our kids back into the classroom," noting that "a lot of Georgians, including African Americans and other minorities, cannot go back to work if their kids are not in the classroom."
Additionally, the governor has promised to propose school safety legislation such as new safety training for teachers and staff, continuing education requirements for school resource officers, and requiring districts to submit school safety plans to the Georgia Emergency Management and Homeland Security Agency.
As for Abrams, she has put boosting teacher pay at the center of her education agenda. Kemp delivered on a 2018 campaign promise to raise teacher pay by $5,000. Abrams would go much further, raising the statewide base pay for teachers to $50,000 from $39,092 and the average teacher salary to $73,500 from $62,500. "Central to our children's educational success is supporting the teachers, paraprofessionals and support staff who help us grow resilient children," Abrams said when accepting an endorsement from the Georgia Association of Educators. "When our educators are highly valued and fairly compensated for their commitment to education, our children benefit."
Abrams's agenda also includes creating initiatives to strengthen the teacher talent pipeline, adopting a new education funding formula for K-12 students, leveraging Medicaid money to increase access to mental health services in schools, and providing universal pre-K.
When asked in the recent debate how she would pass and fund her sweeping education proposals, particularly given the likelihood she would be working with a Republican legislature, Abrams replied: "Georgia is sitting on a 6.6 billion surplus… I want to invest it in our children and in our families."
She also promises to oppose any legislation that would hinder transgender and nonbinary students from accessing "a gender-affirming space at school," such as a sports team, and legislation that "drives a wedge between parents and teachers" or "devalues teachers' professional judgment" and leads teachers to "live in fear of sanctions for teaching an accurate history or having meaningful class dialogue."
Both points are in reference to a bill Kemp signed into law last April that issues guidelines for teachers to approach certain "divisive concepts" with their students and created an oversight committee to determine how transgender students may participate on sports teams. In the recent debate, Abrams promised to repeal the bill were she elected, describing it as "a teacher [being] told you have to lie to a child." Kemp has defended his signature on that bill and on another creating a Parents' Bill of Rights. He told a nonpartisan teachers group, the Professional Association of Georgia Educators, "I have also been clear that Georgia's classrooms should be free of divisive ideology and a place where students can learn how to think, not what to think. In the last year, we have taken steps to ensure that is the case in Georgia, and I will continue to do so as governor of our state."
Notably, the school choice champion in Georgia's election is neither of the gubernatorial candidates, but Searcy, the Democratic nominee for Georgia school superintendent. Abrams has promised to oppose private school tax credits and vouchers. Kemp has been largely quiet on the issue.
Tracey Marin is a senior associate at Whiteboard Advisors.