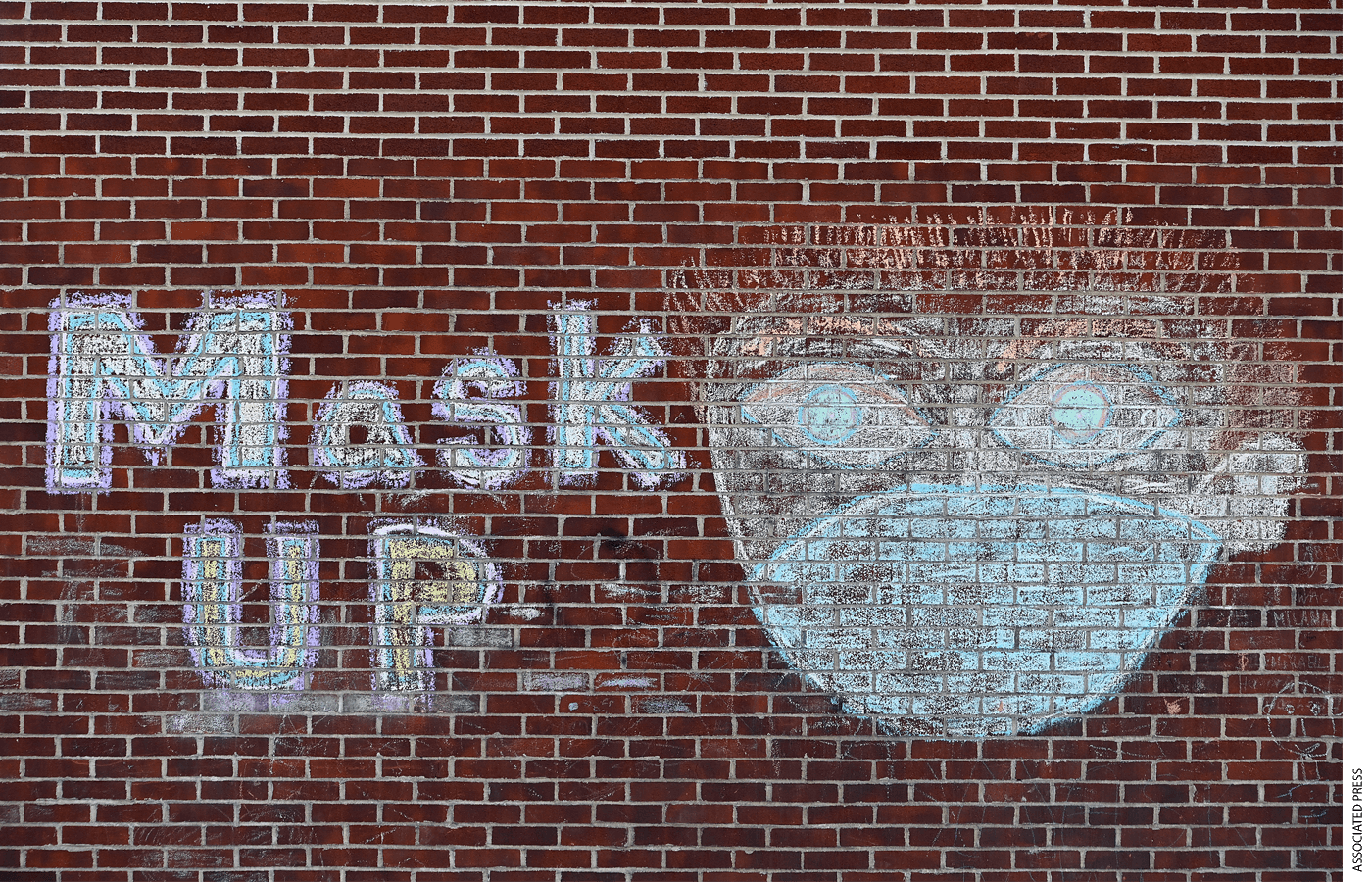 Americans are rightly concerned about the negative educational effects of the pandemic, especially for underserved student groups like low-income students of color and students with disabilities. All across the country, there is growing pressure to find ways to safely get as many children as possible back in schools. Despite our best efforts, online learning is just not as good as in-person, and the consequences of a full year online may be devastating. At the same time, the pandemic is spiking all across the country, threatening school reopening plans in many places.
One policy solution that will keep Covid-19 transmission rates low and help get students back into schools is mandated mask wearing, and state and district leaders who want a return to in-person teaching and learning might be mulling such a policy. There are certainly school districts that have been open throughout the fall without mask mandates, and we don't yet know whether the most recent spike will affect district policies after the holidays. But we know that masks have become increasingly politicized and partisan, so we have been studying a range of data to understand the prevalence of, and support for, masks in schools. Based on our analyses, we think that mandated mask wearing is the most feasible and highest-leverage policy to get kids back in the classroom.
First, the simple truth is that parent support for mandatory masking in schools is high and growing. For instance using the nationally representative USC Dornsife Understanding America Study (UAS), we found that parent support for mandatory face coverings in schools has increased substantially since the summer, from 45 percent of households when we first asked in July, to more than two-thirds in October (69 percent) (for more on our methodology, see here and here).
Perhaps the increase in support is due to the large number of students currently in schools with mask-wearing policies—our most recent wave of data (administered in November, 2020) found that 90 percent of students currently in attending school in person or hybrid were required to wear masks. If you're experiencing masks in school and finding that the benefits outweigh the costs, you may be less resistant to the policy.
Second, despite popular perception, mandatory mask-wearing in schools is supported by a majority of all racial/ethnic, regional, and partisan groups. When we last asked in October, 82 percent of Democrats supported mask-wearing and 51 percent of Republicans. Mask-wearing was supported by the majority of Asian (85 percent), Black (82 percent), Hispanic (75 percent), and White (62 percent) families, as well as 58 percent of families living in rural areas and 79 percent of families in urban areas. While support was higher in some groups than others, the vast majority of families across all groups support mask-wearing policies.
What explains the variation across groups in support for masks? One factor may be experiences with Covid and, relatedly, beliefs about the risks of Covid to children. When we asked parents whether they agreed that children are at serious risks of Covid health effects, 89 percent of Black households agreed, compared to 70 percent of Asian households, 69 percent of Hispanic households, and only 44 percent of White households. Black households were also less likely than other groups to agree that school closures were more harmful to children than the risk of Covid. We found similar patterns across other demographic and regional groups, echoing these groups' support for mandatory mask-wearing.
Third, we can't open schools without teachers, and recent evidence suggests that teachers are overwhelmingly supportive of mask policies. A recent survey of a representative sample of Los Angeles-area teachers, for instance, found that mask wearing was the single most critical need for teachers to feel comfortable returning to the classroom—75 percent of teachers said it was critical (compared to just 36 percent who said a vaccine was critical, for instance). Teachers also supported smaller class sizes and spacing, which likely can be achieved given that not all students who are welcomed back to the classroom will actually return. In short, teachers are by-and-large comfortable returning to the classroom if they are protected with masks and adequate spacing.
Where does this leave state and school district leaders? On the one hand, our results suggest that parents are mostly on board with mandatory mask wearing in schools, particularly in urban and democratic areas. At the same time, urban districts tend to serve more low-income students of color whose parents may be more reticent to send them back to school. As urban districts do start to hatch their reopening plans, they should consider how they are going to address parents' concerns and serve students whose parents opt for at-home or hybrid options.
Certainly, the win from Biden might begin to reshape the conversation around masks and in-person learning. At the very least, we can expect a Biden Department of Education might project a more favorable rhetoric around mask wearing in schools. And the new administration will likely take their role in Covid monitoring much more seriously, perhaps by creating a federally mandated national data tracking system to study the impact of school reopening on Covid transmission. But state and district leaders shouldn't wait for the U.S. Department of Education to tell them what to do. They should work with health experts in their state to safely reopen their schools, with masking and appropriate distancing, as soon as possible.
Shira Haderlein is a postdoctoral researcher at the University of Southern California Rossier School of Education.
Morgan Polikoff is an associate professor of education at the University of Southern California Rossier School of Education.