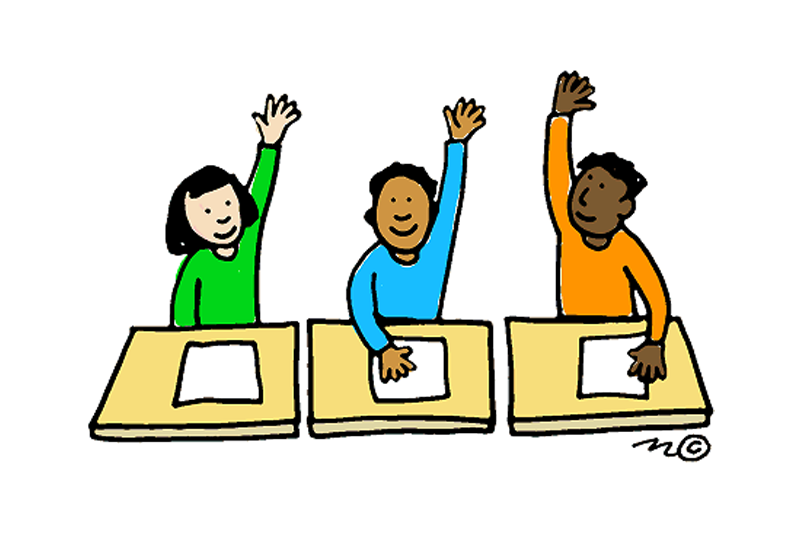 Students and teachers returning to face-to-face (or mask-to-mask) instruction are encountering a heightened set of challenges around classroom discussion. After a year-plus of learning at home or in varying degrees of isolation, academic discourse can feel unnatural.
Students talking in class might seem unremarkable. But it's actually a critical factor in creating productive, equitable classrooms. High school educators know that most teenagers love to talk and have no shortage of things to say. When done well, structured class discussions can deepen learning for all students; but if not facilitated equitably, they can be exclusionary for students from nondominant backgrounds or without a strong sense of belonging in class.
What makes talk a tool for learning and equity?
In a productive academic discourse, students address each other rather than communicating through the teacher. By setting up goal-directed discussions about meaningful content, educators can help students transform their ideas into public resources for their classmates, advancing the whole group's state of understanding. A lesson thus becomes a collective endeavor in building knowledge and deepening skills.
Classroom discourse provides students with authentic opportunities to process new content using methods from oral traditions. This sets them up to become independent, self-directed learners. At the same time, discourse builds and sustains a strong community of learners by making room for student voice and agency while centering class culture around communal talk and tasks.
While many of us think of class discussions as being strictly in the humanities realm, student discourse is just as powerful a tool for learning in math and science classrooms. Research backs this up: the authors of Ambitious Science Teaching found that in science classrooms, the most "powerful examples of learning" were characterized by verbal sense-making and "productive and equitable talk."
What does this have to do with equity? A lot, as it turns out. Culturally and linguistically diverse students are often denied the opportunities to delve into more sophisticated thinking skills like synthesis and analysis because of systemic educational inequities. As a result, a disproportionate number of these students struggle to learn independently even though they have the potential to do so.
In Culturally Responsive Teaching and the Brain, Zaretta Hammond argues that students learn the most, and develop into the strongest independent thinkers, when they engage in academic risks in an environment that feels safe. By creating welcoming, well-facilitated opportunities for in-class discourse, educators can help level the playing field and give our most vulnerable students a chance to independently flourish.
Some may think of academic discourse as happening only in the classrooms of veteran teachers, or with accelerated students who have "earned" the right to be heard. But student talk belongs in every classroom, and all students deserve opportunities to share their voices.
How to make this happen? 5 Key Steps 
Even adults know that sometimes, the more challenging the topic, the more difficult the conversation. We've all had moments where saying nothing would be easier. So how can teachers and schools make sure that all students are set up to engage in and benefit from academic discourse? Here are a few key steps for planning and execution:
Develop clear discourse norms and expectations, and revisit them throughout the discussion. Should students take turns talking? What's a supportive way to respond to each other's thoughts, and what responses might shut down talk?
Establish goals and a timeframe up front for the discussion; this is especially crucial for engaging diverse learners and English language learners.What are the guardrails of this conversation? How and when can I participate? What's the goal of this time?
Choose a task that asks students to actually dosomething with ideas (also known as a reasoning or high cognitive-demand task). Is this a juicy topic that's worth talking about?
Plan 2-3 "discourse moves" to engage all students in the discourse; encourage students to talk to each other rather than the teacher. These moves might include things like wait time, a quiet pause while students synthesize their thoughts and prepare to speak; batch call, where a teacher calls on two or three students to talk one after the other, without the teacher speaking in between them; and universal prompts, which are prompts that can be used to push student thinking in a variety of contexts ("What makes you think that?" "What is evidence to prove…?").  Do all students have an access point into the conversation? How can I draw out students who haven't participated yet?
To wrap up the discussion, script a prompt for students to articulate the key point(s) in their own words. To optimize independent learning, how can students "own" the major takeaway(s) of the discussion?
Encouraging students to talk to each other in class is a key tool, not only for learning, but for equity. As students, teachers, and school leaders emerge from behind our computer screens, we have a great opportunity to create rich, engaging classroom discourse that maximizes learning for all students.
Emma Lind-Martinez is High School Math and Science Achievement Director at the KIPP Foundation.