On March 27, we released "Integrating Social, Emotional, and Academic Development: An Action Guide for School Leadership Teams. This guide is aligned with the recommendations of the National Commission on Social, Emotional and Academic Development and is a response to school and district leaders who asked questions like "What does SEAD look like?" "How do I do it?" and "Where do we start?" The target audience is school principals and their local, school-based leadership teams. We have received tremendous positive response from school and district leaders who have begun using it to thoughtfully consider how to create more holistic and rigorous learning environments for their students.
We have also heard some critical feedback from Chester E. Finn Jr. and Frederick Hess. We write today to correct that record.
There were four criticisms posed to Education Next readers, and we address each briefly:
First, a concern that the Action Guide encourages schools to move too fast. We agree that moving too fast creates the potential for mis-steps.
In fact, the Action Guide encourages schools to take a deliberate, measured approach to implementation by first aligning around a rich vision of student success, then to map assets within the school and the broader community, then to set priorities – and only then to plan in the spring for shifting resources to a SEAD strategy for the following school year. It doesn't imply full implementation will be "done" in the first or even second year; the point of describing this planning and budgeting process is to caution against going too fast and lacking adequate planning, support, or coherence with other improvement strategies. Providing meaningful access to rigorous content necessitates a thoughtful approach, and while there is urgency to provide this access, doing it poorly will only be a disservice to the students we are serving.
The Action Guide does not advocate for policy change or prescriptive requirements that everyone needs to follow; SEAD is not a program to be implemented. It is a way schooling acknowledges that formal education plays a role in shaping each students' development of their own identity, agency, and a sense of purpose in their learning. Itis a set of strategies aimed at changes in practice that can be pursued by school leadership teams. These schools need support now, to navigate the many new SEL services and products that are being offered to respond to increased demands from parents and teachers, and increased philanthropic support to pursue this work. Some approaches minimize the importance of academics–which must remain at the forefront of the strategy. School leaders need support in being strategic actors. Are they asking the right questions? Can they provide evidence that high expectations are being held for all learners? Do they have a plan for making those expectations more than words on a page? The Action Guide asks (and help leaders answer) those questions.
Second, a worry that culturally affirming curricular materials are fine "until and unless this kind of inclusivity swamps standards-aligned learning of essential skills and content in core academic fields." We couldn't agree more that academics must be front and center. And this is why the Action Guide addresses this criticism explicitly and repeatedly. The Action Guide states that "[s]tudents need high-quality curriculum, complex texts, and aligned assessments, along with engaging instructional practices and meaningful assignments/tasks." The Education Next blog post calls out the Action Guide for recommending students have access to materials that are "inclusive of students' identities, experiences, and culture," but Finn and Hess leave out the beginning of this phrase, which recommends schools use "high-quality instructional materials aligned to grade-level content that are inclusive of students' identities, experiences, and culture." There need not be a trade-off between rigorous content and inclusivity–and the guide provides both guidance and exemplars of how they can coexist, and reinforce, one another.
The third critique claims the Action Guide does not do enough to emphasize self-control, personal responsibility, or civic-mindedness. In fact, the Action Guide lists specific competencies students need to develop, like learning how to "demonstrate respect toward others," "resolve conflicts," and "recognize and manage one's emotions." These are essentially descriptors of self-control, personal responsibility, and civic-mindedness.
The most emphatic criticism is aimed at the proactive and robust treatment of equity issues throughout the Action Guide. Stereotype threat is characterized as a "belief that has its proponents" and is ridiculed as an ideological rather than empirical statement. To the contrary, stereotype threat, a concept pioneered by Claude Steele, Dean Emeritus at the Stanford Graduate School of Education, is one of the mostly commonly tested topics in social psychology. The research base on the impact of stereotype threat on achievement gaps is strong and demands attention.
One thing is clear: the current system of K-12 education is not preparing a diverse population of young people to take their place in college, careers, and a pluralistic society. Coursework is not rigorous enough, schools focus too narrowly on either academics or whole child development, teachers and leaders don't have the training and support they need, and racial disparities and biases persist.
Educators and local leaders need access to the latest research on the science of learning. They deserve clear-eyed guidance on managing complex issues of race and specific strategies to integrate SEL and academics.
We'll continue to lean into the hard work of proposing solutions grounded in research and practice and look forward to engaging with Finn, Hess, and anyone else to ensure our public schools develop young people who can advance our democracy.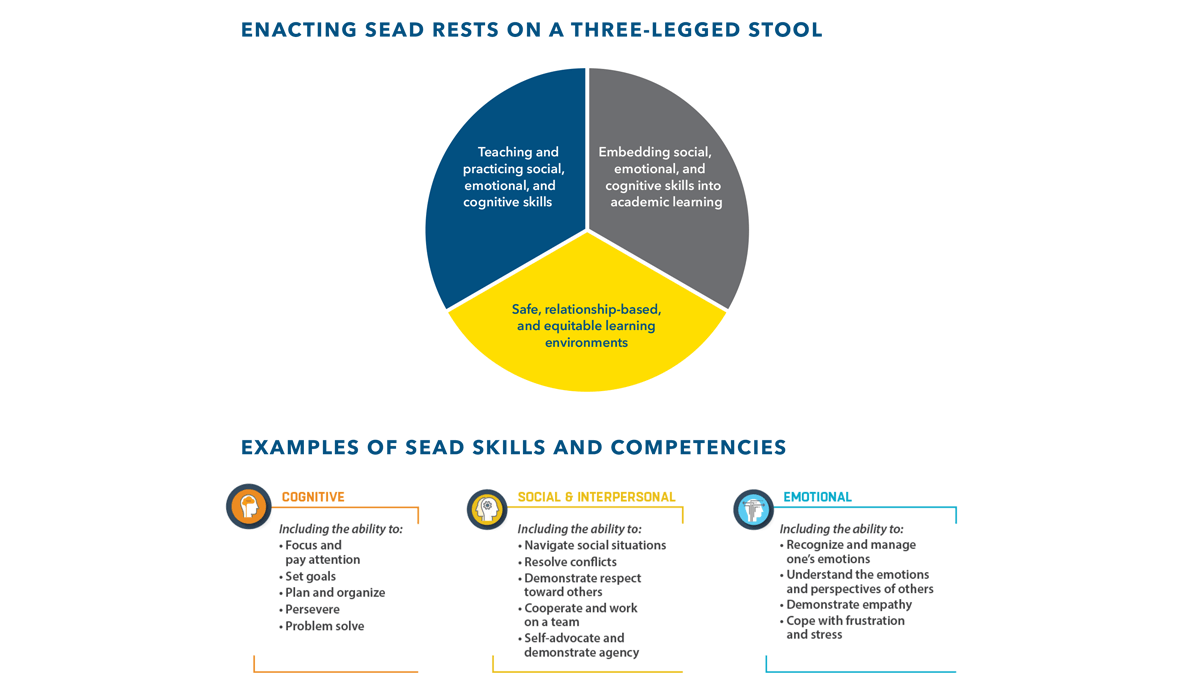 ---
This post is submitted jointly by the authors of the The SEAD Action Guide for School Leadership Teams:
Ann Clark, National Principal of the Year, former Superintendent of Charlotte-Mecklenburg Schools, Superintendent-in-Residence NYC Leadership Academy and Project Director for the SEAD Action Guide for School Leadership Teams
Nicole Beechum and Camille A. Farrington, University of Chicago Consortium on School Research
Genevieve Quist Green, Ph.D., Education Resource Strategies
Kelly James and Jacob Waters, Education First
Eric Moore, Chief of Academics and Accountability, Research and Equity, Minneapolis Public Schools
Kyla Krengel, Director of Social and Emotional Learning, Metro Nashville Public Schools
Douglas Sovde, M.Ed., Charles A. Dana Center
Danielle Gonzales and Ross Wiener, Aspen Institute, Education & Society Program
Rachel Etienne, Executive Vice President of Professional Learning and Astrid Fossum, Senior Mathematics Specialist – Student Achievement Partners